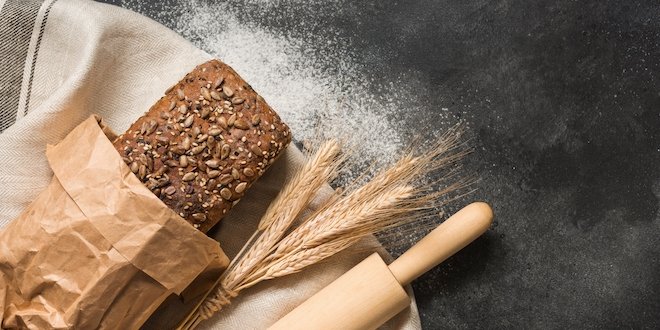 For those of us who love breads, pasta and baked goods, wheat is likely to be a key part of our diet. But wheat has been getting a bad rap lately, especially as more and more people become aware of gluten allergies and other dietary issues. So, what's the deal with wheat when you have diabetes? Can diabetes and wheat go together? Here's the low-down on wheat varieties and what kinds of wheat-based foods you can still enjoy when you have diabetes.
What are the different types of wheat?
There are several classes of wheat as well as many varieties that stem from each – too many to name here! The most common wheat varieties are bread wheat (for breads and baked goods) and durum, which is used to make many of the dry pastas currently on the market.
There are also several ancient grain wheat varieties gaining popularity as healthy meal options. These include:
Spelt, which is higher in protein than common wheat and can be interchanged with common wheat in most recipes.
Emmer, also known as farro or grano farro, which is touted for having a good amount of antioxidants. Antioxidants have been shown to reduce the risk of type 2 diabetes. Learn more here.
Einkorn, which is not only high in protein but has the highest level of lutein among wheat species. Lutein is a vitamin which has been shown to prevent certain age-related eye diseases.
Kamut, which is an heirloom grain originating from Egypt and contains more protein and vitamin E than common wheat.
What is wheat used in?
Wheat is a favourite grain in cooking because it's so diverse. It is typically milled into flour and then used to make everything from breads and pastries, to cereal bars, crackers and sauces. It is even used in making licorice and other confections.
Wheat can be further transformed to make foods such as:
Wheat bran for adding to biscuits, cakes and muffins—in order to increase your fibre intake
Wheat germ to sprinkle on breakfast cereals, fruit or yogurt
Flaked or puffed wheat for cereals
Bulgur or cracked wheat to use in tabouleh or kofta
Couscous
Wheat starch for use in confectionary goods
Semolina for making pasta
Should I avoid wheat when I have diabetes?
Provided you don't have a gluten allergy, you can still enjoy this age-old grain. Wheat is a good source of carbohydrates, which is necessary in managing your diabetes. In fact, according to Diabetes Canada, 45-60% of daily calories should come from eating carbohydrates. Find out more on why carbohydrates are important in diabetes management and which carbs are healthier than others.
Still, when it comes to carbohydrates, moderation is key. When it comes to food made with wheat, whole grain is your best option for maintaining a healthy diabetes diet.
Why is whole grain best for me?
Whole grain wheat is a good choice when you have diabetes because it is low in fat and high in fibre and carbohydrates. It is also relatively high in protein and potassium. Whole grain wheat contains many vitamins and minerals too. Research has also shown that whole grains can help prevent diabetes and reduce blood sugar spikes throughout the day for people who already have the disease.
Whole grain pasta, for example, has a higher nutritional value than pasta made from durum or semolina flour because all of the components of the grain (the germ, bran and endosperm) are kept intact rather than being stripped down in the refining process. The germ and the bran contain the healthiest nutrients compared to the endosperm. This is why it's best to look for '100% whole grain' or '100% whole wheat' when shopping for pasta or bread at the grocery store. Get tips on shopping for healthier breads here.
Making good choices when it comes to wheat by picking whole grain varieties means you can still enjoy some of your favourite carbs even when you have diabetes.