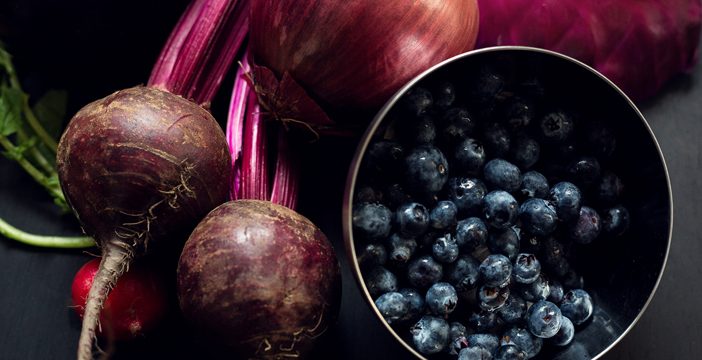 Studies have shown that eating fruits and vegetables as part of a healthy diet can help reduce the risk of type 2 diabetes, or at least delay its onset. But now new research out of Finland is showing that purple fruits and vegetables, in particular, may play an even bigger part in type 2 diabetes prevention. Let's find out why you may want to keep these fruits and vegetables on your meal-planning rotation.
What are the proposed benefits of purple fruits and vegetables?
Natural compounds called anthocyanins are responsible for the blue-violet or red-orange colour we see in many fruits and vegetables such as berries, concord grapes, red cabbage and radishes. The research shows that anthocyanins may help in preventing and managing type 2 diabetes because they impact energy metabolism, promote gut health and reduce inflammation in the body.
Anthocyanins can be broken down further into two categories: acylated and nonacylated. While both types are beneficial in reducing type 2 diabetes risk, researchers recently discovered that acylated anthocyanins were especially effective. While these compounds take longer for the body to absorb and digest, they do more in improving the health of intestinal stomach lining, suppressing inflammation and helping regulate blood sugar. In turn, all these factors work together to help reduce type 2 diabetes risk.
Which purple fruits and vegetables are best?
The research shows that acylated anthocyanins such as purple potatoes, radishes, red cabbage, purple carrots and purple corn were especially effective in lowering type 2 diabetes risk.
Nonacylated fruit, such as elderberry, blackberry and blackcurrant, were less effective, perhaps because they contain substantial quantities of natural sugar that may negate some of the initial benefits.
What other foods reduce type 2 diabetes risk?
Along with purple fruits and vegetables, there are several other foods that have been linked to type 2 diabetes prevention. They include:
Avocados
Berries (e.g., blueberries, cranberries, strawberries, raspberries)
Broccoli
Extra virgin olive oil
Fatty fish (e.g., salmon, tuna, herring and sardines)
Garlic
Leafy greens (e.g., spinach, kale, watercress)
Legumes (e.g., beans, lentils)
Read more on the top 10 Canadian fruits and vegetables for a diabetes diet.
The bottom line? Adding more purple fruits and vegetables to your diet may help keep type 2 diabetes at bay. Just remember that adding a variety of fruits and vegetables (regardless of colour) in your meal planning is always a good idea too.