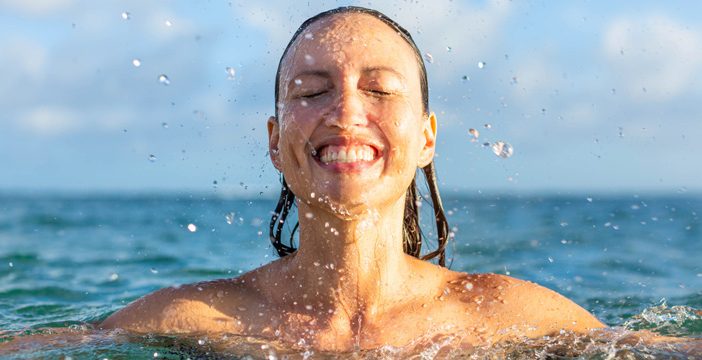 Swimming is an aerobic exercise, which involves continuous, rhythmic movements of large muscle groups. The Diabetes Canada clinical practice guidelines recommend that people with diabetes should get 150 minutes per week of aerobic exercise – that's about 20 minutes per day. Read on to learn about 7 benefits of swimming for people with diabetes.
1. Enhances muscle strength. This is valuable in controlling diabetes. Stronger muscles become more sensitive to insulin and absorb more glucose from the blood, resulting in lower blood sugar and A1C levels.
2. Improves heart health. A number of studies have shown that swimming helps improve your heart health. The constant movement of your arms and legs while you are swimming allows the blood and oxygen in your body to pump more efficiently. This helps lower blood pressure and increase high-density lipoprotein cholesterol levels (the "good" cholesterol).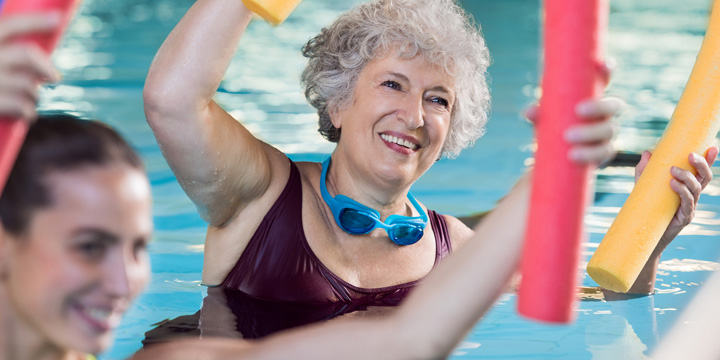 3. Minimizes joint pain. Swimming stretches and relaxes your muscles and doesn't put pressure on your joints, which is great for people with diabetes. As well, if you have foot or leg pain from nerve damage, or other physical limitations, the swimming pool is a great place to get active: the water's buoyancy supports the body's weight and minimizes pain.
4. Lowers blood sugar for longer periods of time. Most types of exercise have blood-sugar lowering effects, but aerobic exercise – especially swimming – is particularly beneficial in lowering blood sugars. Moreover, the lowering effects can last for hours or even up to two days.
5. Improves lung function. Swimming can actually make your lungs more efficient in how they process the air you breathe. When your heart rate climbs during a workout, that's a response to your body's need for more oxygen. That oxygen is supplied by your lungs and causes you to breathe harder during exercise. Your lungs get better at meeting these demands as you swim consistently, and that can result in increased lung capacity over time.
6. Helps with weight loss. Swimming is an efficient way to burn calories and foster weight loss. A 75-kilogram person burns about 423 calories per hour while swimming at a low or moderate pace. Swimming at a more vigorous pace can burn up to 715 calories per hour. You lose the same amount of weight swimming as you would by jogging, but without any impact on your joints, which is great for people with injuries or painful joints.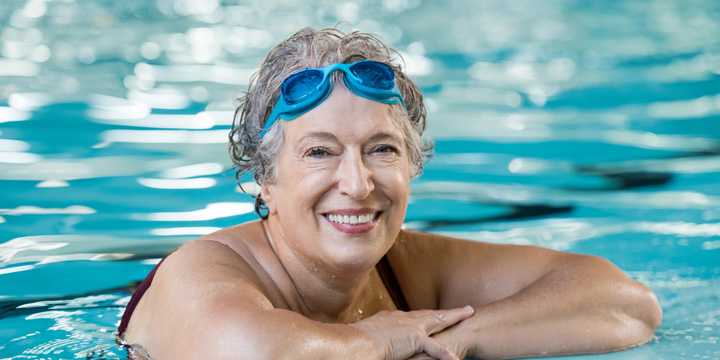 7. Improves emotional health. Swimming isn't just good for your physical health, it can be great for your emotional health as well. Swimming can lead to the release of feel-good hormones in the brain called endorphins, which can help to lift your mood. The stretching and flexing of the muscles used while swimming can also help the body relax, which can assist in decreasing anxiety, depression and feelings of stress.
Aerobic exercises are great for people with diabetes. They improve blood sugar control and heart health and can help lower stress levels. Swimming is a great choice for reaching your aerobic activity goal. And because it's low impact it can be continued for a lifetime! To be on the safe side, always check with your healthcare team before starting any new physical activity regimen.