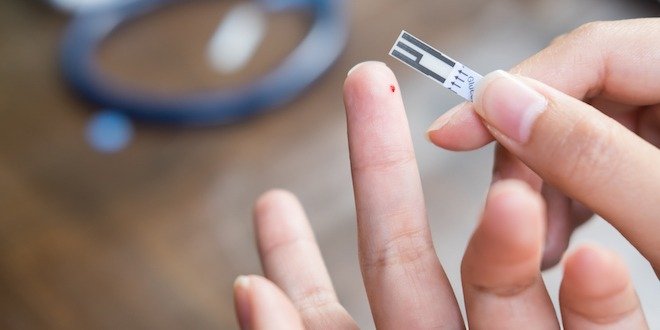 When you or someone you care for is diagnosed with diabetes, a three-worded phrase quickly becomes part of everyday conversation: that is, 'blood sugar levels' – or 'blood glucose levels'.
Blood glucose (blood sugar) is the amount of glucose in a person's blood at a given time. An individual with diabetes can gain valuable information by knowing how their levels compare with targeted healthy blood sugar levels at various times in the day.
Let's start by clarifying the generally agreed upon blood glucose targets.
Diabetes Canada's 2018 Clinical Practice Guidelines (CPGs) for the Prevention and Management of Diabetes in Canada is a guide issued to healthcare professionals to help direct an agreed standard of diabetes care in Canada. The chart below shows the recommendations for blood glucose levels for most people with diabetes.
Recommended

blood glucose (sugar)

targets for people with diabetes
AIC*

Fasting

blood glucose

/

blood glucose

before meals (mmol/L)

Blood glucose two hours after start of meal (mmol/L)

Target for most patients with diabetes

≤7.0%

4.0 to 7.0

5.0 to 10

If A1C targets 

not being met**



 

4.0 to 5.5

5.0 to 8.0
*An A1C is an average of your blood glucose levels over the past three months. Learn more about the A1C here.
**Must be balanced against the risk of hypoglycemia 
Target a range – not a single number
Note that the CPG's recommend a realistic range for blood glucose levels, rather than a single number at any particular point in time. This is an important concept to grasp since diabetes management is far from a perfect science, and blood glucose levels can be expected to swing occasionally. Sometimes this can be for no seeming reason at all. On this topic, you may find it interesting to read our article Not all blood glucose levels need to be perfect.
Agree on specific target ranges with the diabetes team
Sit down with a member of your diabetes health care team and discuss a range of blood glucose targets that are considered reasonable and realistic, given age, lifestyle and health considerations.
You should have a clear understanding of which numbers are considered too high or too low. It should also be clear what actions need to be taken if these numbers occur.
Times when levels typically swing
Stay aware of events that may cause blood glucose levels to swing. For example, these could include:
After exercise, for those taking insulin
After a larger meal than usual – especially if it contained a high carb food
At the onset of illness