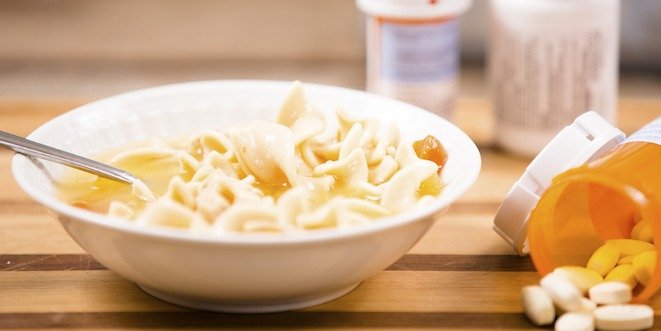 Have you ever been called to help someone you support with diabetes when they are sick? Did you ever wonder if they should continue taking their diabetes medications or what food they should eat when they are unable to eat their usual meals?  Managing diabetes when someone is ill will help ensure a speedy recovery.  Most importantly, it may avoid a trip to the emergency department at the hospital.
Let us take a look at what happens in the body during acute illness….
When a person is sick with an acute illness such as cold, flu or infection, the body reacts to the stress by activating the "counterregulatory hormones". Their special function is to make more glucose available in circulation to fight the infection. When the body breaks down stored fat to make glucose, some harmful by-products such as free fatty acids and ketone bodies start to accumulate. To make matters worse, if the person is not drinking sufficient fluid, the levels of these by-products together with the high blood glucose level can put the body in a crisis situation.
Consider adopting this "Prescription" for wellness while your family member or friend is sick:
monitor blood glucose levels frequently
follow the usual diabetes medication schedule (see special note below on specific medications)
offer a carbohydrate-containing food/drink if the person you support can't eat their usual meal (see table 1 for choices)
encourage drinking at least 2L (9 cups) of fluid per day unless there is fluid restriction. You can offer a sugar-free drink if blood glucose is above the normal target level, or choose sugar-containing fluids if blood glucose is below the normal target level.
The Canadian Diabetes Association has the following information on their website:

Managing your blood glucose when you're ill
When you are sick, your blood glucose levels may fluctuate and be unpredictable. During these times, it is a good idea to test your blood glucose levels every 2-4 hours. It is also very important that you continue to take your diabetes medication. If you have a cold or flu and are considering using a cold remedy or cough syrup, ask your pharmacist to help you make a good choice. Since many cold remedies and cough syrups contain sugar, try to pick a sugar-free product.
When you are sick it is VERY IMPORTANT that you:
Drink plenty of extra sugar-free fluids or water; try to avoid coffee, tea and colas as they contain caffeine, which may cause you to lose more fluids.
Replace solid food with fluids that contain glucose, if you can't eat according to your usual meal plan;
Try to consume 15 grams of carbohydrate every hour;
Call your doctor or go to an emergency room if you vomit and/or have had diarrhea two times or more in four hours;
If you are on insulin, be sure to continue taking it while you are sick. Check with your healthcare team regarding guidelines for insulin adjustment during illness;
Rest
Table 1: Examples of food choices containing carbohydrate (CHO) to replace the usual meal
| | |
| --- | --- |
| Starch Food | Each choice=15g carbohydrate (CHO) |
| Arrowroot cookies | 4 cookies |
| Bread | 1 slice |
| Digestive biscuits | 3 cookies |
| Rice Krispies or Corn Flakes | 180 mL( 3/4 cup) |
| Soda crackers | 7 crackers |
| Drinks | |
| Apple Juice ( not diabetic juice) | 125 mL (1/2 cup, 4 oz) |
| Ginger ale (regular not diet) | 180 mL (3/4 cup, 6 oz) |
| Milk* (avoid if vomiting or diarrhea) | 250 mL (1 cup, 8 oz) |
| Nutren 2.0 | 90 mL   (1/3 cup, 3 oz) |
| Orange juice | 150 mL (2/3 cup, 6 oz) |
| Resource Diabetic | 160 mL ( 2/3 cup, 5 oz) |
| Sugar food | |
| Apple sauce, unsweetened | 125 mL ( ½ cup, 4 oz) |
| Ice cream | 125 mL ( ½ cup, 4 oz) |
| Jello | 125 mL ( ½ cup, 4oz) |
| Yogurt (flavored) | 125 mL (1/2 cup, 4 oz) |

Special note on medications:
Metformin and kidney function:  If your family member or friend with diabetes requires frequent monitoring of their kidney function and are taking this medication, check with the physician at the next visit regarding the use of this medication during acute illness.
Rationale: some individuals experience temporary worsening of their kidney function during acute illness allowing metformin to accumulate in the body. If too much metformin is present in the body, a serious side effect, lactic acidosis may happen.
Herbal medications and vitamins:  If appetite is poor or if nausea and vomiting occurs, consider limiting medications to those prescribed by the physician and stop herbal medications and vitamins during the illness.
Rationale: some herbal medications and vitamins can increase nausea and worsen the appetite if taken with little food. Since it is more important to be able to eat food and drink fluid to prevent dehydration, consider stopping taking them (unless it is recommended by your physician) temporarily. Your family member or friend can resume taking them as soon as they feel better.
Angiotensin Converting Enzyme Inhibitor (ACEI) and Angiotension Receptor Blockers (ARB): These medications are commonly used in people with diabetes for their renal protective effect and their blood pressure lowering benefit. If the person you support is taking either ACEI or ARB medications or a combination of these, you should check with your physician at your next visit whether they should continue taking them during acute illness.  For more information on these medications please review my blog Medications for High Blood Pressure and the blog written by Lori Berard, Hypertension: More is Not Always Better.
Rationale: some individuals require close monitoring of the rise in serum potassium while taking these medications, especially if they are taken in combination with each other or with some other medications that have similar effect on serum potassium. If serum potassium is allowed to rise too much, it can affect the normal functioning of the heart.
Learn more about managing diabetes medications during sick days here.
Be proactive in your support to your friends and family with diabetes…. failing to plan is planning to fail!