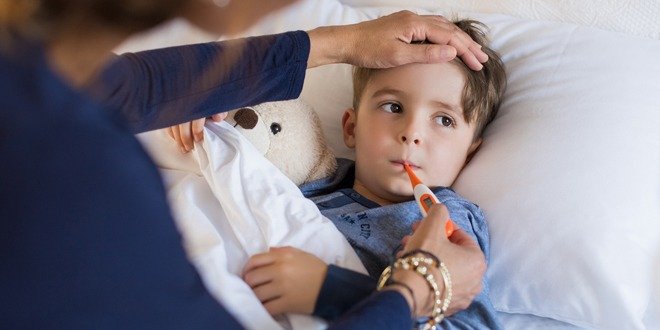 Just like other children, when your child with type 1 diabetes is sick it can be challenging: missing work or trying to secure a doctor's appointment, but it also presents an increased level of care. When the body is battling an illness it perceives it almost as a threat, or a stress to its system, and so to relieve said stress it produces more energy to fight it than is typical. Moreover, in a person with diabetes this can lead to erratic blood sugar levels due to nausea, vomiting or low intake of foods as a result of loss of appetite.
Because you can't possibly know exactly how an illness will affect your child's diabetes control, follow a few planning protocols along with the advice of your doctor or diabetes health care team so you feel confident the next time a sick day shows up.
Stay the Course
Unless your doctor advises differently, your child should keep taking their insulin during their illness even if food intake may be lower. The liver produces glucose and releases its stores into the blood so even if your child may not be eating regular meals or the same quantities, his or her body still needs insulin to process the glucose regardless. Without insulin, the body will start to burn fat and there is the risk of a critical condition called diabetic ketoacidosis when the body produces a high level of blood acids called ketones.
Checking Blood Glucose
Check your child's levels more often than you normally would because you can't predict how the illness will affect their glucose. The general rule of thumb is to check every two to three hours, but know this is merely a suggestion. Your child may require more, or less, depending on your doctor's advice.
Food and Drink Guidelines
Naturally your child is going to have difficulty eating a full meal when they're feeling under the weather, so to avoid low blood glucose levels try your best to get them to eat 15 grams of carbohydrates every hour, if possible. Bananas, graham crackers, or toast will suffice, but if solid foods are simply too much, opt for liquids like a fruit juice, sports drinks, popsicles or Jell-O if you find their levels are low.
(Remember: this is a standard guideline, so cross check with your health care professional before implementing.)
Over-the-counter (OTC) Medications
Other than acetaminophen or ibuprofen to manage fever, non-prescription cough and cold medications are not recommended in children less than six years of age. If you do use a non-prescription medication in older children, be aware that they may contain ingredients that raise blood sugar levels. Before giving your child OTC medication, check with your doctor or pharmacist. You can also check out our expert blog on managing symptoms of the common cold in people with diabetes here.
When it's an Emergency Situation
Monitor the number of times your child has episodes of vomiting or diarrhea throughout the day because even though these are typically symptomatic of an illness, they can also be a warning sign of diabetic ketoacidosis. If your child is experiencing these episodes three to four times in one day, it may be wise to seek some medical attention. Likewise, if large amounts of ketones remain in your child's urine (and you can test these levels by purchasing supplies at any pharmacy without a prescription), it's also advisable to seek medical attention. Read more about diabetic ketoacidosis here.