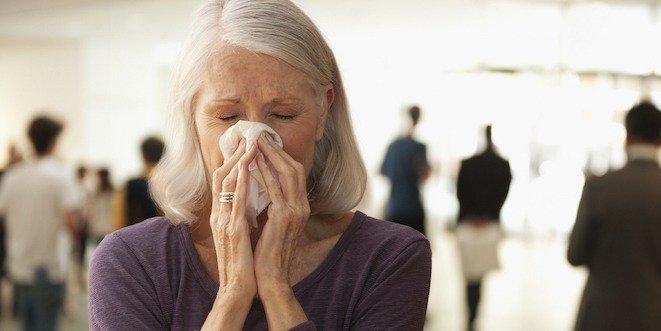 In the midst of the cold season, you may wonder how to care for yourself when you come down with an illness. And, for example, what non-prescription medications are safe to provide relief for sore throat, runny nose and cough.
In one of my previous blogs – Managing diabetes when someone is ill – there are some useful tips on how to manage diabetes during illness.
On the shelves of local pharmacies, many non-prescription medications that provide symptomatic relief to the common cold list diabetes as a caution to their use. This is done to alert the user that some common ingredients found in these non-prescription medications can also raise blood glucose. Since illness causes the body to release stress hormones that naturally raise blood glucose, the best option is to choose those products that have minimal effect on blood glucose levels.
Simple and topical remedies can be very effective
Gargling with salt water or sucking on throat lozenges can provide relief to sore throat. If concerned about the sugar from the throat lozenges, look for those that are "sucrose free".
Nasal saline solution can help clear the sinuses and stuffy nose. There are many nasal sprays/drops or nasal rinses available. Some examples are: hydraSense®, NeilMed®, NasalMist®
Simple is best for cold medicines
Keep it simple. Choosing a non-prescription medication based on the types of ingredient proven to relieve the particular symptom is better than choosing one with multiple ingredients. Often a medication with just one ingredient is all that is needed to treat the symptom.
Choose the better dosage form
Non-prescription remedies in pill form are often a better choice than syrups with the same ingredients because the pills may contain no carbohydrate. If you decide to use a syrup, look for one that is sugar-free and/or alcohol free. As long as the doses taken are within the recommended limit, the small amount of sugar in a syrup will likely affect the blood sugar less than the illness itself.
What are the classes of nonprescription medications that provide relief to symptoms of the common cold?
Analgesics/antipyretics: for aches/pains and fever:
Acetaminophen (Tylenol® or other store brands)
Caution: avoid in people with liver problems
Caution: may precipitate Reye's syndrome in children with viral infection
Non steroidal anti-inflammatory agents: ibuprofen and naproxen
Caution: may increase blood pressure and is not a good choice for people with kidney problems
Best options:
Safest choice is acetaminophen in most people with diabetes, except those with a liver problem.
In children it may be necessary to alternate acetaminophen with ibuprofen for temperature control.
---
Decongestants relieve the nasal stuffiness and congestion:
The most common oral decongestants are pseudoephedrine (Sudafed®) and phenylephrine (Dimetapp®).
Caution: oral decongestants may cause a rise in blood pressure and blood glucose
Nasal drops/spray: 0.1% xylometazoline HCL (Otrivin®) Phenylephrine 0.5% and Pheniramine 0.2% (Dristan®)
Caution: Nasal form has no effect on blood glucose but can cause rebound nasal congestion after prolonged use (e.g. more than a few days) or when doses exceed the recommended limit.
Best option:
Oral decongestants:  choose a lower dose, or limit use to the time of day most needed for relief e.g. bedtime
Nasal form: limit use to recommended dose and use for short duration.  (e.g. 3-4 days)
---
Antihistamines: decrease runny nose and sneezing.
Traditional antihistamines: diphenhydramine (Benadryl®) and chlorpheniramine (Chlor-Tripolon®).
Caution: cause drowsiness, impair thinking and balance
Non-traditional antihistamines (do not cause drowsiness) include:

loratadine (Claritin® and store brands)
cetirizine  (Reactine® and store brands)
desloratidine (Aerius® and store brands)
fexofenadine( Allegra® and store brands)
Best option: choose a non-traditional antihistamine to avoid drowsiness
---
Expectorants:loosen phlegm and mucus in respiratory tract and make coughs more productive.
Guaifenesin: has no effect on blood sugar control. It is found in single ingredient products like Robitussin® Plain, Benylin®-E®, store brand expectorant syrup).

Caution:

Avoid using a cough suppressant at the same time as an expectorant. Productive cough helps clear the airway and should not be suppressed.
Be aware guaifenesin is commonly combined with other ingredients in multi-ingredient cold products, so be sure to read that label.
Best option: take an expectorant during the day with plenty of fluid.
---
Antitussive: suppress cough
dextromethorphan (DM): has no effect on blood sugar control. Found in products such as Delsym®, DM – syrups

Caution:

DM can impair thinking in older adults.
Avoid taking antitussive at the same time as an expectorant. See explanation above.
Best option: limit use of cough suppressant to the time of day when relief is most needed e.g. bedtime.
---
When to get help from your health care team?
At the start of the flu season, remember to get the flu shot.
When choosing non-prescription medications for a cold, take the time to talk to the pharmacist to get recommendations on the product needed to help manage your symptom(s).
When you do not improve after a few days of using non-prescription medications or if the symptoms get worse, the physician should be consulted for further treatment.