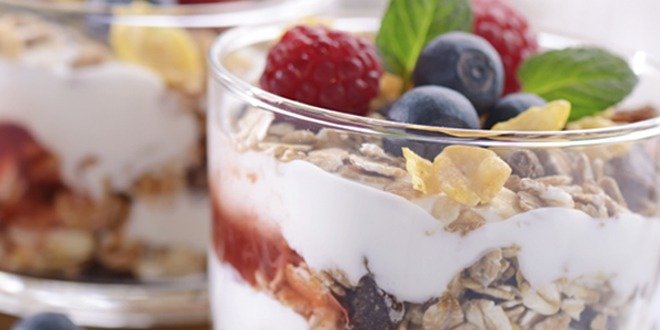 Breakfast is an important part of healthy eating, especially for those living with diabetes. But including it as part of the regular daily routine can be challenging for a number of reasons. Let's consider possible barriers and look at some easy, healthy breakfast solutions.
As always, it is important to be guided by the specific management goals recommended by the diabetes healthcare team. This article has general ideas but the person with diabetes should follow their individual meal plan to meet their blood glucose level targets.
Breakfast barriers
If an individual with diabetes is employed and/or is parenting school children, mornings are often a rush. It may seem difficult to fit in time for breakfast. Many others simply feel overwhelmed by the perceived challenges of working breakfasts around the diabetes meal plan.
The reality is that a healthy breakfast doesn't have to be at all complicated. It doesn't even have to fit with the traditional breakfast menu concept. Breakfast is simply the meal that breaks the fast between the previous day's last food and the day ahead.
Healthy breakfast foods
A healthy balanced breakfast should include 3 of the 4 main food groups according to Canada's Food Guide such as a high-fibre carb, a source of protein and a low-fat dairy or alternative option, and/or a fruit . Breakfast is a time when many people find it easier to include whole grains since many traditional breakfast foods have whole grain and high fibre options.
As always, it's important to keep portion sizes within the diabetes management target meal plan.
Depending on cultural preferences, healthy breakfast options could include: (The amounts listed below are for a person with a slightly bigger appetite. Your portions may differ depending on your individual needs, check with your dietitian or healthcare team.)
A slice of whole grain bread or similar, with peanut butter or low-fat cheese. Plus ½ cup whole grain cereal, a fruit serving and a glass of low-fat milk.
2 small whole wheat dosa with vegetable chutney, an egg, a fruit, and a low-fat yogurt.
2 small whole wheat chapatti with savoury chutney and dhal.
1 cup of congee (try brown rice or multigrain rice), leafy vegetables, steamed fish, low-fat milk or fortified soy beverage
These options are included in the Just the Basics menu plans from the Canadian Diabetes Association. This is an excellent source for meal plan ideas.
 Fast and easy ideas
Now that we've covered some healthy breakfast ideas, let's look at some fast and easy ways to implement them.
Left-overs are an obvious but often ignored solution. The healthy whole wheat pizza or rice meal enjoyed the previous night can be a quick and easy breakfast solution. Add a fruit and a low-fat dairy or alternative.
Pick up a low-fat bran muffin on the way to work. Halve it and top with a spoonful of yoghurt. Add a fruit like an apple or orange. Wrap the other half and save for next day.
Breakfast smoothies are easy to whip up in the blender. Blend no-fat yoghurt or low-fat milk with berries or a banana. Toss in a teaspoon of wheat germ, flax or rolled oats, and a similar amount of nuts. Delish!
Fill a whole grain or spinach tortilla with grated cheese mixed with salsa. Top with diced tomato. Roll up and slice into pin-wheels. Makes a great breakfast to take to the office.
Save time – plan ahead
If mornings are always a rush, planning ahead can make breakfasts a whole lot easier. Try some of these simple ideas :
Put out the fixings for breakfast the night before. Put cereal in a bowl and chop up fruit ready to add. Cover both and put on the table or kitchen counter with a spoon ready for the next morning.
Make your own muesli ahead of time, making enough for three or four days. Mix rolled oats with low-fat yoghurt and a little low-fat milk, and add whole berries and/or chopped apple or other fruits. Top with nuts. This keeps in the fridge for several days.
Cook up some hard boiled eggs and keep ready in the fridge. Slice an egg and make into a sandwich with whole grain bread. It's an easy way to get protein in a hurry when things are rushed. Or make ahead the night before and take to work.
Ask a diabetes dietitian for more ideas, and read our healthy eating expert's blog 'One Pantry Fits All'.