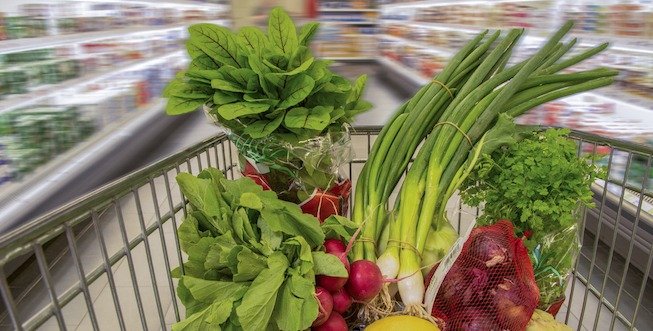 Savvy grocery shoppers are more likely to stock their pantry with a variety of healthy foods, which makes it easier to plan healthy meals. When less-healthy treats are in short supply, you'll eat fewer of them, and that makes good sense for managing your blood glucose levels and your weight.
So, how to shop smart when the sheer amount of choices can be overwhelming? Here are some tips for making the most of your trip to the supermarket, and for choosing healthy foods.
Make a list
It's a good idea to have a shopping list every time you head for the grocery store – that way, you'll be less likely to make impulse purchases of foods that may be less healthy.
Keeping your shopping list in a handy, prominent place in your kitchen is the first step. If you invest in one of those nifty magnet-backed note pads, you can stick it to your fridge and add to the list when an item strikes you. As you plan your meals for the week, add the ingredients you'll need to the list. For more information about smart meal planning, click here.
Hug the wall!
You may have noticed that most grocery stores have similar layouts. Fresh foods – such as fruit and vegetables, meat, bread and dairy products – are along the perimeter of the store, while processed and packaged foods are in the central aisles. So, when you start shopping, cruise the outside aisles of the store first. Spend more time picking out fresh produce, low-fat dairy products, and lean, healthy meats and fish. Then, take a quick detour down the middle aisles for whole grain pasta and brown rice (but maybe skip the cookie and salty-snack lanes altogether!).
Make smart packaged and processed food choices
When choosing packaged foods, be sure to read the Nutrition Facts table. (In Canada, packaged foods must contain this table). The Nutrition Facts table contains a wealth of information that can help you make healthy choices. Choose packaged foods that are low in saturated fat and sodium, and high in fibre. For more information about reading Nutrition Facts tables, click here.
YOUR SHOPPING LIST
Use this sample shopping list the next time you take a trip to supermarket!
Vegetables
Tip: Choose one dark green leafy vegetable each day
Meat, protein and fish
Tip: Choose lean or extra-lean cuts
Broccoli
Boneless, skinless chicken breasts
Salad greens: kale, spinach, romaine lettuce
Frozen salmon fillets
Carrots, celery and zucchini for snacking
Pork tenderloin
Potatoes, sweet potatoes
Extra-firm tofu
Avocados
Lean ground turkey
Cucumber
Lean ground chicken
Cherry tomatoes
Eye-of-round beef steaks
☐
☐
☐
☐
☐
☐
Fruits
Tip: Choose fresh berries in season for a quick snack
Dairy, eggs and other refrigerated products
Tip: Choose lower-fat dairy products
Bananas
Skim, 1% or 2% milk
Apples
Low-fat yogurt
Oranges or clementine
Eggs
Berries (blueberries, strawberries or blackberries)
Low-fat cottage cheese
Watermelon
Low-fat Swiss or cheddar cheese
Grapes
Non-hydrogenated margarine
Cantaloupe
Hummus
☐
☐
☐
☐
☐
☐