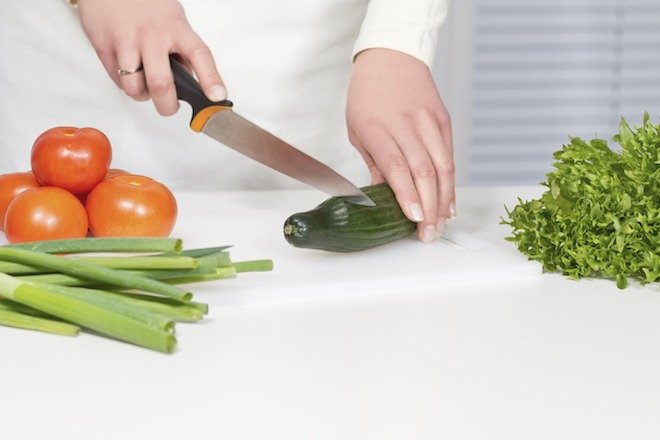 Cutting down on fat and calories when you're cooking doesn't have to be a time-consuming or even painstaking process. There are lots of simple ways that you can ensure you are preparing the healthiest meals possible for you and your family. Here are some quick kitchen tips and tricks to help you make meal prep a breeze!
If you haven't already, invest in a few good-quality knives – to start with, a large knife for cutting meat and a smaller knife for peeling and chopping vegetables and fruit. Hone them when needed, so they remain super sharp. Sharp knives will help you cut fat from meat easily and thoroughly.
Other ways you can equip your kitchen for low-fat food prep include a steamer for vegetables, a non-stick skillet for sautéing meats, and a roasting pan with a rack that allows fat to drip away.
Replace higher-fat ingredients with lower-fat ones. For example, if a casserole recipe calls for a pound of meat, instead use only a half-pound and replace the remainder with tofu, bulgur or brown rice.
If you make soups, stews or chili, skim any fat before serving. If you allow the dish to cool completely, the fat will rise to the top and congeal; you can then just skim it off and discard it.
Instead of using salt to flavour dishes, get a little creative and use herbs and spices to enhance flavours instead. Parsley, basil, oregano, rosemary and dill are all rich in flavour and will spice up any main dish. The same goes for sugar: if you're making a dessert, think of replacing sugar with cinnamon, cloves or nutmeg. All of these flavours pack a real punch!
If you're a fan of baked goods, you can replace the oil or butter in a baking recipe with puréed fruit, such as unsweetened applesauce or mashed prunes. However, if you still want to use fat when you're baking, then consider replacing butter and shortening with sunflower or canola oil: both are rich in monounsaturated fat, and canola oil also has heart-healthy omega-3 fatty acids.
Go vegetarian! There are lots of ways to replace or reduce the meat content in main dishes. Thinking about a tofu stir-fry, vegetarian chili or an Indian vegetarian curry. With the addition of lentils and beans, these dishes all provide excellent sources of protein. As well, consider adding vegetables into your everyday recipes, when appropriate. For example, add broccoli or cauliflower to macaroni and cheese (you can cook it with the pasta), and incorporate garden vegetables (for example, chopped onion, peppers or zucchini) into pasta sauces.