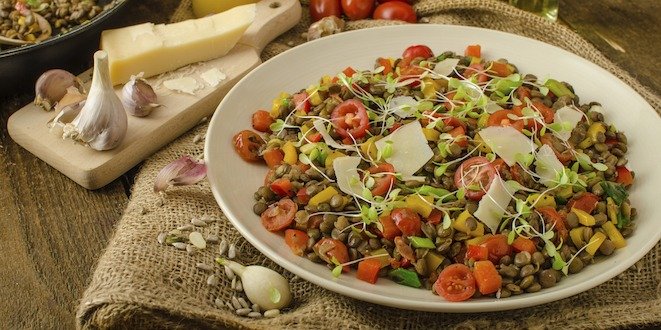 People living with diabetes are told how the diabetes diet can help keep blood glucose levels under control. But did you know that a diabetes diet cuts your risk of complications?
It's true! Heart disease, kidney disease, high blood pressure, eye problems and nerve damage are all high risk complications for people with diabetes, resulting from high blood glucose levels, high cholesterol, high blood pressure and poor weight control. These are all health issues that respond well to the diabetes diet.
Check out how to cut your risk of the following health complications by making simple diabetes diet food choices.
Food choices to cut the risk of heart disease
The diabetes diet includes lots of high fibre grains and cereals, fruits, and vegetables. This reduces cholesterol and blood pressure levels and lowers your risk of heart attacks and stroke.
Aim to include dietary pulses such as peas, lentils, chickpeas and dried beans. You can also substitute 2oz of unsalted nuts for daily carbohydrate choices.
Make low-fat food choices, and especially aim to cut back on saturated fat. This means eating poultry without skin, lean meats, and low-fat dairy products. Keep meat portions to about the size of a deck of cards, and substitute fish for meat at least twice a week.
Choose lower-fat cooking methods such as poaching, steaming, baking or grilling instead of frying. Cut back on processed foods.
The diabetes diet also recommends reduced salt intake. This helps cut the risk of high blood pressure, which is a major contributor to heart disease.
Food choices to cut the risk of kidney damage and eye damage
The diabetes diet's recommendations to manage blood pressure will also help cut your risk of kidney damage and eye damage.
In addition to reducing the salt in your diet, aim to eat more high fibre grains, vegetables and fruits to help keep blood pressure within targets. Also increase your intake of nuts, fish, and pulses like dried beans and lentils.
Other specific health benefits of the diabetes diet
Following a diabetes diet will also give you other specific health benefits that will help cut your risk of numerous long-term complications. These benefits include healthier weight management and, of course, better management of blood glucose levels.
Ask for a referral to the dietitian on your diabetes health care team for one-on-one discussion about the diabetes diet, and specific recommendations to suit your individual lifestyle and health needs.
For a detailed chart of the health benefits of different food choices within the diabetes diet, see our expert dietitian's blog Eating healthy to prevent diabetes complications.
Quick tip –You will find some fantastic overall healthy eating tips in our videos on this site: Healthy eating for people with diabetes.