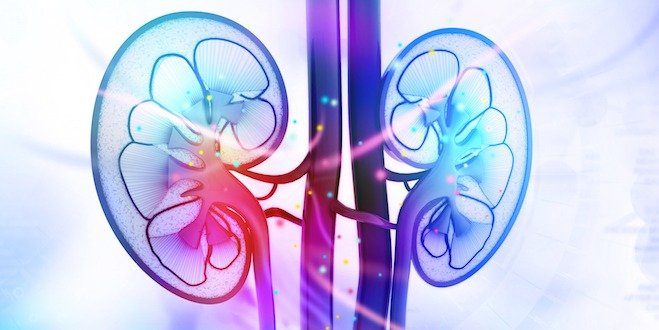 Diabetes affects blood vessels. The kidneys are little powerhouses full of blood vessels, so they are particularly susceptible to harm.
Kidney disease can be very "silent".  There is often little in the way of symptoms until the kidneys are functioning at a very low rate. This is why the diabetes team should be monitoring kidney function. Monitoring is done with a blood test for creatinine, and is used to calculate flow through the kidney. This flow is called eGFR or estimated glomerular filtration rate. A normal rate is above 90ml/minute. Once the flow is less than 60ml/minute chronic renal failure is diagnosed.
A very low rate (less than 15mL/min), is serious, and means people are very ill. Dialysis is likely, where the blood must be cleansed by a machine as the kidneys are unable to do their job.
Kidney disease has been linked to long duration of diabetes, poor glucose control, hypertension, male gender, obesity and cigarette smoking. People with kidney disease are also at much higher risk of heart disease.
How do people with diabetes protect their kidneys?
Don't smoke: Smoking is harmful to all blood vessels and will increase the risk of kidney damage.
Watch for and treat high blood pressure:  High blood pressure damages all blood vessels but in the kidney there is a vicious cycle. High blood pressure harms kidneys and kidneys that are damaged can cause high blood pressure. So it is even more important to treat high blood pressure in people with diabetes. The target in people with diabetes is less than 130/80.
Use specific blood pressure medication: There are high blood pressure medicines that have been found to protect the kidneys (and hearts) of people with diabetes called ACE (Angiotension Converting Enzyme) Inhibitors or ARBs (Angiotension Receptor Blockers). These are normally used if there is any protein in the urine, which is a sign of early kidney damage.
The test for protein is called ACR (Albumin to Creatinine Ratio) and the target value should be less than 2.  The ACR test should be done routinely on people with diabetes, starting at the time of diagnosis for type 2 diabetes and at 5 years after diagnosis with type 1 diabetes.
There can be "false" positive ACR tests. Some of the reasons include menstruation, vigorous exercise, urine infection or high fever.
ACE inhibitor medications are also a first line of choice to treat high blood pressure in people with diabetes. Moreover, this class of medication is also recommended in people with diabetes over the age of 55, even if they have no other complications, to protect their hearts.
Keep blood sugars at target: Kidneys are damaged by high blood sugars. Over time, having an A1C above 6.5% will cause a decrease in kidney function. This is more important if people with diabetes are younger when they develop diabetes, as there are more years to harm the kidney function. So it is especially important to have normal sugars in younger people with diabetes as opposed to the very elderly.
Stop certain medications when ill:  Certain medications, commonly used by people with diabetes, sometimes need to be temporarily discontinued when people are ill, especially if they become dehydrated. It helps to have direction from the health care team as to which medications. Common ones are: non-steroidal anti-inflammatory medication (often used to treat arthritis), "water pills" or diuretics, and a number of diabetes medications that can lower blood sugars as well as certain blood pressure lowering medications. Check with your primary care provider and pharmacist about this.
Be screened regularly for kidney disease:  This is a blood (creatinine) and urine (ACR) test. As already mentioned, kidney failure can be silent, so the health care team should be screening regularly (at least yearly) in people with diabetes.