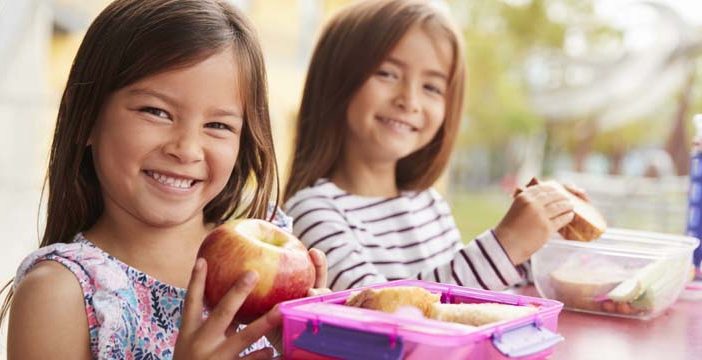 School is back in session, and parents of kids with diabetes may be dreading the thought of lunches and snacks that will help their child manage blood glucose levels and give them the energy they need for the day. Packing school lunches for kids with diabetes requires some special considerations, but it doesn't have to be stressful.
Keep in mind that kids want to be like everyone else at school. However, unlike the other students, kids with diabetes need to be aware of many things that most others take for granted, such as timing of meals, the composition of their meal, and the prevention and treatment of low blood sugars. Working together with your child and school personnel can make this an easier process and help your child feel like they fit in.
In addition to providing foods that your child enjoys eating, here are some essential things to consider when packing lunches and snacks for kids with diabetes.
Include a fast-acting source of carbohydrate
It is essential that kids with diabetes have access to quick-acting carbohydrate, such as glucose tablets, juice or hard candy. Hypoglycemia (low blood sugar) is best prevented, but can happen due to more activity than usual or a delayed meal. School personnel should be aware of the symptoms and how to treat hypoglycemia. They should also know where to locate the fast-acting carbohydrate sources. It is a good idea to provide an emergency supply for the teacher to keep on hand as well.
Include a variety of foods for good nutrition
In addition to providing a balanced meal that includes foods from each of Canada's Food Guide food groups, kids with diabetes need to ensure the right balance of protein, fat and carbohydrate. Although carbohydrate foods directly impact blood sugar levels, protein and fat can help keep levels steady and prevent hypoglycemia. Include servings of healthy carbohydrates (whole grain bread, fruit, yogurt), some protein (cheese, chicken, tofu) and plenty of colourful vegetables.
School personnel should know the carb count of lunch and snacks, especially if the child is using an insulin-to-carb ratio and dosing insulin based on the amount of carbs they will consume. It is helpful to include a list of foods that are in your child's lunch and snacks, with the corresponding number of carbohydrates in each item. This will help your child or school personnel ensure the right dose of insulin is given. You may also want to print out our carb chart for some examples.
If your child will be eating a school-provided lunch or choosing from a cafeteria menu, ask for a copy of the weekly menus with carb amounts so you and your child can plan accordingly. Allow your child to participate in activities that involve food as much as possible. This strengthens carb counting skills and helps prepare them for making their own appropriate food choices.
Include some "free foods"
Carb-free foods allow kids with diabetes to eat without needing to take additional insulin. This can help your child feel less "different" and more like the other kids. Include foods such as cheese cubes or cheese strings, colourful and crunchy veggies with their favourite dipping sauce, dill pickles and cubes of deli meat, such as turkey or ham.
Include a water bottle
Fluctuating blood glucose levels increase the risk of dehydration in kids with diabetes. Water is the best source of fluid to keep your student well hydrated. A refillable water bottle is optimal.
Heading back to school can be a stressful and hectic time for children and their parents or caregivers. When a child has diabetes, there are several additional things to consider when attending school, especially when it comes to packing lunches and snacks. Blood sugars can change frequently throughout the day, and levels that are too high or too low can affect a child's ability to learn. With some planning – and with support from school personnel – heading back to school can be a little easier for everyone.