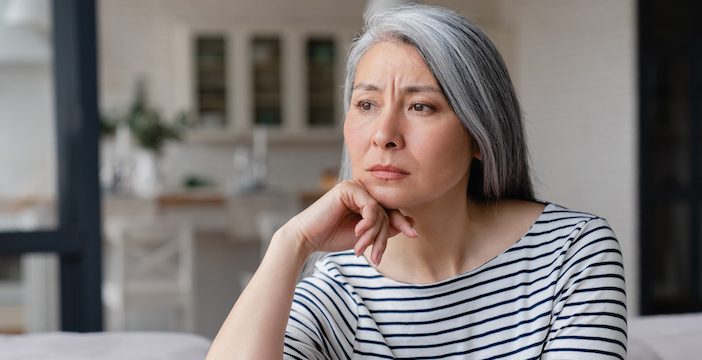 Diabetes Canada reports that an estimated 14% of people with diabetes have generalized anxiety disorder, and as many as 40% of people have some anxiety symptoms. Why do anxiety and diabetes occur so frequently together, you may ask? Anxiety and stress was further amplified during the global pandemic due to increased financial pressures with job losses, concerns regarding medication access, isolation and disruption to daily routines. Read on to learn how to recognize symptoms, how to manage anxiety and find tips and resources.
Everyone has stress in their lives at certain times, but this is especially true for people who are living with a chronic disease – such as diabetes – which can often be challenging to manage. Living with diabetes can create added stress, worries or fears in one's life. People with diabetes may have concerns about managing their condition, fears about hypoglycemia, injecting insulin, or worries about developing diabetes complications. However, for some people with diabetes, these worries and concerns become more intense and bothersome, and result in anxiety.
What is anxiety?
Anxiety is an excessive amount of fear in anticipation of something bad happening. Usually, this is a healthy and normal response to a real threat. However, anxiety can become a serious problem when these feelings last for a long time and impact on daily life in a negative way.
Symptoms of anxiety:
There are many common symptoms of anxiety, including:
Restlessness
Feeling of being tense, nervous or on edge
Difficulty concentrating
Fatigue
Irritability and impatience
Being unable to stop worrying or control worrying thoughts
Feeling afraid that something terrible may happen
Being easily distracted
Trouble falling or staying asleep (insomnia)
High blood sugar levels
Changes in appetite
Anxiety also has physical symptoms including:
Muscle tension
A racing heart
Tightness in the chest
Shortness of breath
An upset stomach
Shakiness
Diarrhea
Excessive sweating
Headache
If you have any of these symptoms for at least two weeks, talk with your physician. They can make an assessment, offer treatment or refer you to a mental health professional.
What does anxiety have to do with diabetes?
For some people, anxiety may exist before a diagnosis of diabetes. However, for others, anxiety may be triggered by specific fears associated with managing diabetes. Common fears that may cause anxiety include a fear of hypoglycemia, a fear of hyperglycemia, or a fear of developing complications.
Hypoglycemia can leave a person feeling sweaty, weak, shaky, light-headed and confused. Hypoglycemic episodes can be aggravating, embarrassing, exhausting and frightening. They can occur at the worst possible times, for example, in the middle of an important business meeting, during a class, or while driving. Moreover, the fear that a hypoglycemia episode will occur over and over again, can greatly affect qualify of life. It may also lead to anxiety disorder.
Hyperglycemia can result in a decrease in cognition, executive function and performance, causing a person to become forgetful and unable to concentrate. Additionally, severe hyperglycemia can lead to diabetes ketoacidosis and hospitalization. The effects of hyperglycemia can affect a person's daily activities, causing worry and anxiety.
Complications: Even though a person is managing their diabetes well, they may still worry about developing complications. The fear of "what if" or "what may" happen in the future can cause intense feelings of fear and foreboding.
Other stressors that can trigger anxiety include a lack of financial coverage for diabetes medications and supplies, worry and stress surrounding checking blood sugar, feeling embarrassed injecting insulin in public, or conflict with family and friends surrounding an individual's diabetes.
Treatment for anxiety:
It is important to seek help from a healthcare provider, because they can help you identify if you have an anxiety disorder and offer treatment or make a referral to a mental health professional if needed. However, in general, the most common treatments for anxiety include:
1. Medications:
In some cases, medications may be prescribed to treat and manage anxiety. Some commonly prescribed medications include: antidepressants and anti-anxiety medications.
2. Therapy:
Managing anxiety through psychotherapy has proven benefits, and there are a few types of therapies that are quite useful, including:
Combining cognitive behavioural therapy and mindfulness-based stress reduction is the best approach. This combination of therapies help a person to relax and evaluate if their anxious thoughts are true or not. Sometimes, anti-anxiety medications can also be prescribed, in conjunction with psychotherapy.
3. Lifestyle changes:
Making changes to your lifestyle can help manage or reduce anxiety, including: getting enough sleep, maintaining a healthy diet, exercising, avoiding alcohol and other recreational drugs, and limiting your caffeine intake, and practicing breathing exercises and meditation. Many of these lifestyle change will also help you better manage your diabetes!
Education and tools for diabetes management:
If you are feeling anxious about hyper- or hypoglycemia, there are a number of diabetes management tools available to help you detect warning signs of high and low blood sugar, including:
Continuous glucose monitoring systems
Testing blood sugar more often
Carrying a source of fast-acting glucose at all times
Learn about new management tools: talk with your diabetes healthcare team about any new developments that might help you cope with lows and highs.
Diabetes management is difficult for everyone. Feeling anxious is natural and anxiety disorders are common. However, there are tools available to help you manage your anxiety. There are also supportive and understanding healthcare professionals, including psychotherapists, who understand the difficulties you're facing and help you deal with them.