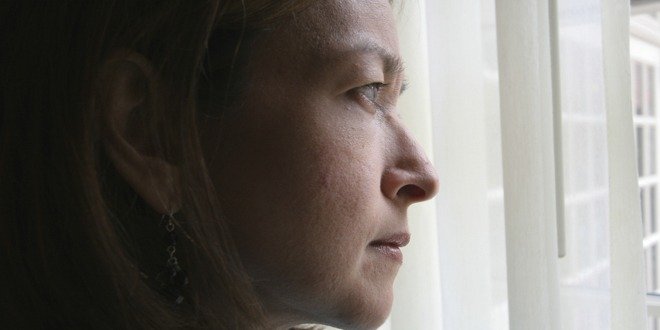 As a social worker working with individuals with diabetes, I have become more aware of how depression, and anxiety are common symptoms.  Studies are unclear which comes first for individuals with type 2 diabetes – diabetes or depression and anxiety. These symptoms can have a negative effect on the quality of life, treatment of diabetes, and diabetes outcomes.
Cognitive Behavioural Therapy for diabetes depression is one therapeutic intervention that I find very instrumental in working with individuals with diabetes. It looks at an individual's thoughts and emotions and at how behaviours are affected by these two areas.
This is highlighted by how the individual is thinking about diabetes behaviours such as taking glucose levels, the possible pain that results from testing, and the anger that may be felt towards this action or living with diabetes. The thought/past experiences and anger/emotion may result in behaviour such as not testing glucose levels.
Through the use of Cognitive Behavioural Therapy, we can modify the influence of negative thought patterns and create positive thought patterns and therefore positive behaviour. This means that by offering diabetes-specific CBT to individuals with diabetes with depression, we should be able to improve emotional well-being, self-management behaviours and diabetic management.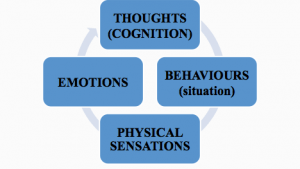 Principles of CBT:
(see above picture) CBT helps an individual become aware how a situation or behaviour causes the body to feel tension or stress, which then leads to an emotional feeling such as sadness, anger, or guilt or another. The thoughts that are derived from theses emotions can then result in other negative behaviours. The awareness of each component of this cycle and the need to change the negative cycle will assist with changing the pattern in a positive direction.

The individual plays an active role in therapy, learning the tools in the therapeutic setting and then going home to complete assigned homework of thought records.

Cognitive Behavioural Therapy (CBT) can be implemented in a group setting and in individual therapy.

The main principle is for the individual to become their own therapist once the CBT tools are learned. So when the negative feelings and poor diabetic management surface, the CBT tools can be implemented by that person.

Very structured, focusing on present problem, utilizing questions to assist with solving the situation.

Goal and skills focused

Time is limited to usually between 8-10 sessions.
The CBT main reference book is:
Mind Over Mood by Dennis Greenberger & Christine Padesky, which can be found in most book stores, libraries and on line.
How to find a CBT group or CBT therapist:
Since this method of treatment is becoming very popular, most diabetes education centres and family doctors are very aware of CBT programs.

Check out the programs at your nearest hospital to see if they are running CBT groups, especially the mental health program in the hospital.