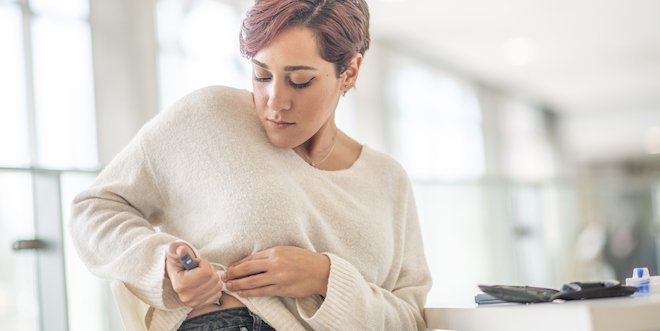 It has always struck me as peculiar that many people with diabetes see starting insulin as the dividing line between a nuisance disease and a serious disease. By avoiding insulin, they feel they don't yet have a serious disease. However, diabetes is serious – right from the beginning – and the most serious part is to control blood sugars and heart disease risk factors in order to avoid complications.
When should insulin be started?
Insulin is just one tool among many that help a person control their blood sugars. The Diabetes Canada guidelines say that insulin may be used at any time during the management of type 2 diabetes. When tolerated doses of other medications have not enabled a person with diabetes to meet their targets (tolerated can mean, physically, financially or by preference), insulin is an excellent option.
The guidelines also recommend insulin for a person who is "decompensated", which means they are losing weight and have symptoms of very high sugars (such as frequent urination and thirst). There is also some data from ongoing studies that suggest pancreas function can be regained – and early type 2 diabetes may be temporarily" reversed" – by early use of insulin, which may, in some cases be discontinued if this reversal happens. This is because very high sugars in and of themselves can cause "glucose toxicity" and further malfunction of the pancreas. Early use of insulin and a resulting dramatic drop in glucose can reverse glucose toxicity quickly.
What is the purpose of starting insulin?
Diabetes is not a "static" disease … it does not stand still! Unfortunately, there is a continual decrease in the amount of insulin a person produces. The landmark United Kingdom Prospective Diabetes Study (UKPDS) looked at good control of blood sugars in type 2 diabetes to reduce complications. The study showed that people with diabetes, even at the time of diagnosis, make about one-half the amount of insulin that people without diabetes produce.
No single medication has yet been found that will preserve the production of insulin over time. Other medications may make people utilize insulin better (weight loss also does this!), or reduce glucose coming from the liver, or improve secretion of insulin briefly or excretion of glucose. However, when it comes to stopping the death of the cells that produce insulin, there has not yet been evidence that any medication can do that. Insulin use is the only way to increase insulin levels over time by providing "outside" insulin.
How is insulin started?
Normally, when insulin is prescribed to help people manage type 2 diabetes, it is a single dose of once-daily basal insulin. This helps reduce glucose that comes from the liver during times of fasting (such as overnight). Over the past 15 years there have been great improvements to this type of insulin, with less weight gain and fewer low blood sugars, which can happen with insulin. One starts with a single dose which is easily read in the window of a personal pre-filled insulin pen and then increases daily or once a week (depending on the healthcare team's instructions) over a month or two, until glucose levels are at target. Often this routine works well with other non-insulin medications that may be prescribed and generally these are continued as the basal insulin is increased. Over time, as insulin production decreases, a mealtime insulin may be prescribed as well. This is often started with one meal; carbohydrate intake is reviewed to help match the meal size with the dose of insulin and then at some point insulin is eventually taken with all three meals.
What about other diabetes medications? Do you continue taking them as well?
Once mealtime insulin is started, some of the other medications may be continued, as this helps reduce the dose of insulin and the risk of weight gain or low sugars. However, one medication that is usually stopped is a "sulphonylurea" (for example, gliclazide or glyburide). Other medications may be discontinued, not for medical reasons, but because of the cost.
Unfortunately, many studies show that the initiation of insulin, a very useful tool, is started far too late and for many of the wrong reasons. The target A1C for most people is 7%. Studies have shown that the average A1C at the time of initiating insulin is close to 9% and that even after it is started it takes almost 2 years to get near target by increasing the dose.
What are some of the reasons for delaying insulin?
Believe it or not, delays can be either from the person living with diabetes or their healthcare provider. Although taking insulin has been greatly simplified over the years with the use of prefilled pens, small (painless) needles and easy-to-follow self-adjustment routines, there is some education required in prescribing insulin. Some primary caregivers do not have easy access to diabetes educators and therefore may delay the initiation of insulin. Moreover, they themselves are not as familiar with insulin and may view it as "complex". Or (big bad secret here!), they don't think you will accept it and so they don't present it as an option. Moreover, it will take a two-way discussion and primary care providers who don't have access to educators may delay the decision until "next time".
From the patient side, a psychologist who studies the experiences of people living with diabetes tells us that the main push backs to starting insulin are:
People living with diabetes feel they have failed and are being "punished"
They think it won't work (fair enough, nothing else has worked)
They don't feel confident that they can manage it (you can!)
So, in the words of famous Canadian endocrinologist Alice Cheng, "It is never wrong to start insulin", but it can be wrong to not start insulin"!