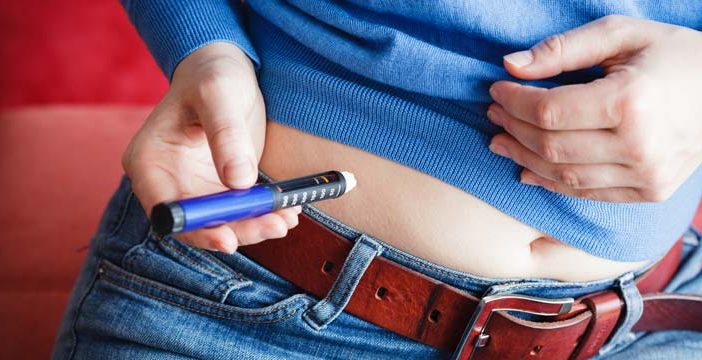 Insulin is a hormone that is produced by the pancreas and plays a crucial role in regulating blood glucose levels. It acts as the 'key' that 'unlocks' the cells, allowing glucose to enter and provide energy for the body's various functions. In individuals with type 1 diabetes, the pancreas does not produce insulin; in people with type 2 diabetes, the body either doesn't produce enough insulin or becomes resistant to its effects. Therefore, the use of insulin is essential for the management of type 1 diabetes and sometimes type 2 diabetes.
What are basal and bolus insulin?
The pancreas produces insulin in 2 ways:
Basal insulin (sometimes called background insulin) regulates blood sugar levels between meals and is released 24 hours a day, whether or not a person eats.
Bolus insulin is released by the pancreas to manage the rise in blood sugar that immediately follows eating food.
In diabetes treatment, insulin injections are used to mimic this natural insulin production with bolus (mealtime) and basal (background) insulin.
What types of insulin are used to treat diabetes?
Various types of insulin are available, differing in onset (when it begins to work), peak (when it reaches the maximum effect) and duration of action (how long it will work to lower your blood sugar). The main categories are shown in the table below.
Insulin type
Onset (how quickly
it starts working)
Peak (when it is
most effective)
Duration (how long
it works)
Bolus insulins
Rapid-acting
15 minutes
1 to 2 hours
3 to 5 hours
Short-acting
15 to 30 minutes
2 to 3 hours
6.5 hours
Basal insulins
Intermediate-acting
1 to 3 hours
5 to 8 hours
Up to 18 hours
Long-acting
90 minutes
Not applicable
16 to 42 hours
(depending on the type)
Pre-mixed insulins
Pre-mixed regular insulin – NPH

A single vial or cartridge contains a fixed ratio of insulin (% of rapid-acting or short-acting insulin to % of intermediate acting insulin)

Pre-mixed insulin analogues
There are different brands of insulin in each category. In contrast to most drugs that are chemically made, insulin is a biologic and therefore more complex and not easily replicated. However, there are biosimilar insulins available, which are almost identical to their original counterparts. They are more affordable and have the same effect as the original brand.
How is insulin administered?
Insulin can be administered using the following 3 methods:
Subcutaneous injections involve injecting insulin drawn up from a vial into the fatty tissue just below the skin using a syringe and needle. The abdomen, thighs and upper arms are commonly used injection sites.
Insulin pens are devices that contain insulin and require a needle to be attached. A specific dose is 'dialed' and then injected into the subcutaneous tissue (just below the skin). An insulin pen can be either reusable, with a cartridge of insulin that can be replaced, or it may be a prefilled device that simplifies insulin Insulin pens offer precise dosing and are easy to carry, making them a popular choice for many patients.
Insulin pumps are small devices worn on the body that deliver insulin continuously through a catheter placed under the skin. They can provide both basal and bolus (mealtime) insulin, offering greater flexibility in insulin
It is important to use proper injection techniques and rotate injection sites for optimal insulin dosing at regular intervals. Your diabetes healthcare team should review and inspect your injection sites at every appointment.
How is insulin used for people with type 1 diabetes vs. type 2 diabetes?
For people with type 1 diabetes, insulin injections will need to be started immediately after diagnosis and continued for life. Insulin is given either with multiple daily injections using insulin pens or syringes, or by using an insulin pump.
For type 2 diabetes, blood sugars can potentially get to target through healthy eating, physical activity and by taking other non-insulin diabetes medication. A diabetes educator (nurse, dietitian or pharmacist) can help with lifestyle changes and managing blood sugar levels. However, type 2 diabetes is a progressive condition and, over time, many people will need insulin to manage their blood sugar. This can be started with one insulin injection daily; however, this may increase to multiple daily injections depending on your blood sugar levels.
How is insulin dosed and what monitoring is needed?
The dosage of insulin varies from person to person and depends on factors such as individual insulin sensitivity, diet, physical activity and overall health status. A healthcare professional will work with you to determine an appropriate insulin regimen.
To ensure optimal diabetes management, regular blood sugar monitoring is crucial. Individuals can use a variety of different devices to check their blood sugar levels throughout the day, enabling them to make necessary adjustments to their insulin doses. More recent technology using continuous glucose monitoring systems provide real-time glucose readings and trend data, offering additional insights into blood sugar fluctuations.
Using insulin to manage diabetes has revolutionized the treatment of this chronic condition. For millions of individuals with diabetes worldwide, insulin therapy is a lifeline that allows them to lead healthy and fulfilling lives. With various types of insulin available and different administration methods, diabetes management can be customized to suit individual needs. However, it's important to remember that insulin therapy is just one part of a comprehensive diabetes management plan. Lifestyle modifications, regular monitoring and close collaboration with healthcare professionals are equally vital to ensure optimal outcomes for people living with diabetes. With ongoing advancements in diabetes care, the future holds promise for improved insulin formulations and delivery methods, further enhancing the quality of life for those managing diabetes.