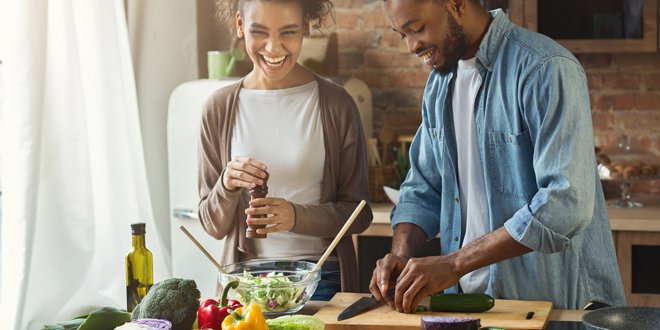 As the holidays approach, life's current stresses and future uncertainties may be putting a damper on any merriment. But here are 10 mindful ways to help you enjoy a healthy, happy holiday this year, which is especially important when you have diabetes.
Nourish your body: There's no denying it, soup is good for the body and soul. A bowl of homemade soup is an ideal way to fill your body with nutrients and warmth as the weather gets colder. Here's a delicious recipe for healthy chicken vegetable quinoa soup. Or try this soup with lentils, swish chard and squash.
Take time to unwind: Fill a bath, add some essential oils, and grab a good book. If you don't feel like reading, dim the lights and add some candles. A warm bath is a great way to relax tense muscles and leave the day's stresses behind. If baths aren't your preference, listen to some soothing music or find a corner and comfy blanket to curl up in while you watch a favorite movie. Give your body and mind permission to relax.
Share with others: The research shows that doing something for others can also benefit our own mental health, by giving us a sense of meaning and satisfaction. Try baking some holiday cookies for a neighbour, donate to your local food bank, or purge your household for donation items.
Reconnect: Reaching out to an old friend or family member you haven't heard from in a while can be a chance to reconnect and share some good memories. Book author and happiness guru Gretchen Rubin says a great way to boost happiness in the present is to remember happy times from the past, so start reminiscing. You'll likely brighten the mood of the person you reach out to as well.
Give thanks: There's a definite connection between gratitude and well-being: according to the research, people who are more grateful for their lives tend to be happier and healthier. That means being grateful for your life with diabetes, even with its hardships. Find more on the importance of gratitude when you have diabetes.
Get your flu shot: The reality is, having diabetes puts you at higher risk of developing serious complications from the flu, such as pneumonia, bronchitis and ear infections. Avoid the risk and get your annual flu shot. This year, getting your flu shot will also reduce unnecessary testing for COVID-19 as the symptoms of both are similar. Here are more reasons to get your flu shot this year.
Keep on moving: Just because you can't get outside as much these days, doesn't mean you should ditch your regular exercise regime. Exercise is especially important when you have diabetes to help maintain weight, improve circulation and enhance your mood. You can find some great online fitness programs here and some information on the benefits of exercise on your mental health.
Get laughing: That old adage that laughter is the best medicine still holds true. If you're spending a lot time watching shows on your TV or computer these days, ensure there are some funny sitcoms and movies thrown into the lot. Funny podcasts or radio shows can make for some chuckles too.
Plan your meals: Resist the urge to throw your blood sugar off track by noshing on junk food throughout the holidays. Instead, make a plan of healthy meals to help you stick to nutritious, better-for-you foods. Choose lower-fat cooking methods too, such as grilling, roasting and poaching instead of frying.
Try meditation or take a moment to breathe: Remember to check in on your mental well-being over the holidays, which can be stressful even at the best of times. Taking a few moments every day to reflect or meditate can do wonders. Here's a collection of meditation apps and relaxation resources that can help get you started.
Having a healthy holiday ultimately means making time to focus on your mental and physical well-being so that you can better manage your diabetes too. Here's to many merry moments ahead!