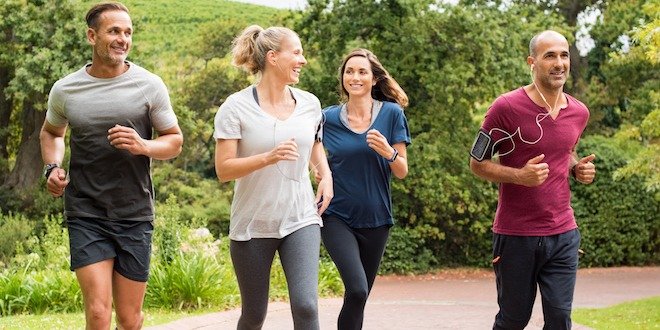 If you have diabetes, you probably know that it's important to engage in regular physical activity. But do you know why? Understanding the specific health benefits that can be gained from physical activity will be a real benefit as you proceed along your diabetes journey. The facts may also provide the encouragement required to stay with a physical activity program. Facts can be powerful motivators!
Here are eight great reasons for physical activity, as reported in major studies and included in Diabetes Canada's Clinical Practice Guidelines. 'Regular physical activity' is recommended as a minimum of 150 minutes per week of moderate to vigorous aerobic activity, plus resistance exercises three times a week.
8 health benefits of exercise
1. Improved blood glucose levels – Diabetes Canada reports that in some cases, physical activity can be as effective as glucose-lowering medications and brings fewer side effects.
2. Improved cholesterol readings – A regular program of physical activity is associated with improved lipid profiles. The lipid profile shows the ratio of 'good' (HDL) and 'bad' (LDL) cholesterol in the blood. An improved lipid profile can lower the risk of heart disease and stroke for people with diabetes.
3. Reduced blood pressure – Regular physical activity can be an important lifestyle tool in achieving blood pressure targets.
4. Improved cardiorespiratory fitness – The cardiorespiratory fitness rating is a measure of the effectiveness of the heart, lungs and blood at transporting oxygen to the major muscles. It also shows how well the muscles use oxygen during activity. Low cardiorespiratory fitness has been associated with increased risk of cardiovascular disease.
5. Reduced risk of death from cardiovascular disease – When regular physical activity is part of the lifestyle, a substantial reduction in early deaths from cardiovascular disease has been reported in both men and women. The statistics hold for both type 1 and type 2 diabetes.
6. Improved weight maintenance – In conjunction with healthy eating, regular physical activity can help people with diabetes reach and maintain their healthy weight targets.
7. Enhanced emotional wellbeing – A regular program of physical activity can promote feelings of wellbeing,
8. Prevention of type 2 diabetes – This may be too late for your situation, but is something for you to keep in mind: in conjunction with healthy eating and weight control, a regular program of physical activity is reported to reduce diabetes incidence by 60%. That is an amazing statistic!
As always, you should check with your diabetes healthcare team before beginning or changing a physical activity program. This is important for everyone with diabetes but is particularly important for those with type 1 diabetes. Insulin adjustments may be required.