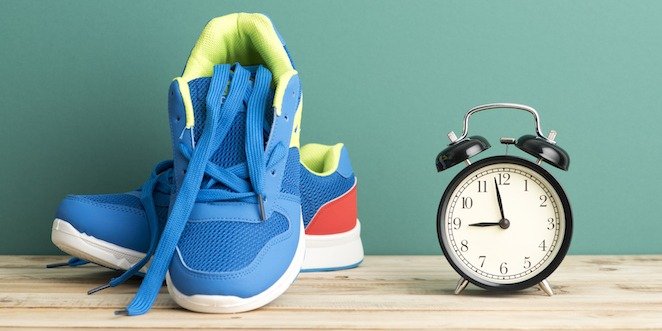 Stop! Don't cross the line.
The progression from prediabetes to diabetes is one line that you do not want to cross. The important thing to remember is that prediabetes doesn't always lead to diabetes. A lifestyle that includes healthy eating, weight loss (if needed) and regular physical activity can reduce the risk of progression from prediabetes to type 2 diabetes by almost 60%. If you have prediabetes, keep your body moving to help make your future one that doesn't include type 2 diabetes.
Aerobic exercise
Aim for at least 150 minutes of aerobic exercise each week. If losing weight is a goal, then at least 250 minutes of exercise per week is necessary to achieve significant weight loss. Research has shown that the risk of developing type 2 diabetes can be reduced by 26% by exercising for 150 minutes per week, and 36% by exercising for 300 minutes per week. Exercising for even longer periods of time results in an even greater risk reduction.
After an exercise session, the body is more sensitive to insulin for up to 48 hours. It is important to have no more than two consecutive days without exercise so that the body maintains the benefit of increased insulin sensitivity. When the body is more sensitive to insulin, blood sugars are better.
If you have been inactive for a while, start by walking at a comfortable pace for five to 15 minutes at one time. Gradually progress to 30 minutes of brisk walking. By the end of a 12-week period, strive to reach a target of 50 minutes of brisk walking.
Shorter exercise sessions throughout the day can replace a single longer session. Consider walking for 10 minutes three times a day after meals.
Resistance exercise
All adults, including elderly people, should do resistance exercise at least twice a week and, ideally, three times per week.
Choose six to eight exercises that target the body's major muscle groups (arms, chest, back, legs and abdomen).
Gradually increase the resistance until you can do three sets of eight to 12 repetitions for each exercise, with one to two minutes of rest between sets.
Weight machines or free weights seem to be better at improving blood sugar control, compared with resistance bands. However, resistance bands can help increase strength and can be a starting point to progress to other forms of resistance training.
You should receive initial instruction by a qualified exercise specialist to help get the most out of your workout and to minimize the risk of injury.
Interval exercise
Interval exercise alternates between higher intensity and lower intensity activity. There is some evidence that higher intensity exercise can lower A1C more than aerobic exercise. Try alternating between three minutes of faster walking and three minutes of slower walking.
Another form of interval exercise, high-intensity interval training, can be performed by doing shorter intervals of very high-intensity exercise (for example, 30 seconds to one minute at near-maximal intensity), alternating with one to three minutes of lower-intensity activity. This type of activity can be used by people who have difficulty finding the time to exercise for longer durations. This can be done with walking/running or on a stationary bicycle.
Start with just a few intervals and progress to longer durations by adding additional intervals.
Breaking up sedentary time
Any extended sitting – such as at a desk, behind a wheel or in front of a screen – can be harmful. Numerous studies report the disastrous health consequences of prolonged sitting, including the development of diabetes. Surprisingly, these risks still exist even if you exercise daily.
Avoid prolonged sitting. Interrupt sitting time by getting up briefly every 20 to 30 minutes.
10 tips for a successful prediabetes exercise program
Make a list of activities and exercises that you like to do
Get advice from a healthcare professional before you begin
Go for short bursts
Break up your workouts
Use a pedometer
Break up your sitting time