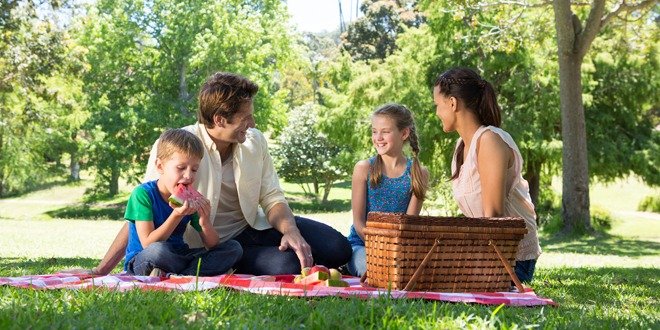 Want to enjoy a feast in the great outdoors without blowing all your healthy eating goals? Fill your plate with some of these great summer food ideas and make picnics part of your diabetes meal plan. Your family and friends will love them as much as you will! Here are some ideas to make sure you have great foods for a summer picnic.

Picnic with protein
Your picnic will usually substitute for a normal meal like lunch, so aim to follow your regular diabetes meal guidelines. For example, plan to include a high-protein choice in a lunchtime picnic to help keep blood glucose levels stable through the afternoon.
Good high protein foods include:
Eggs
Tofu
Chicken without the skin
Beans
Cheese
Tuna or seafood

Make high protein foods part of your picnic with one of these tasty, healthy ideas:
Hard-boiled eggs: Enjoy with a low-fat mayo dip, or mash the eggs with the mayo and chopped celery and/or onion to make an easy egg salad. Add a layer of crisp lettuce or cucumber slices for a tasty filling for whole wheat sandwiches or mini pita pockets.
Chicken salad: Poach boneless chicken cubes and mix with low-fat mayo and/or low-fat plain yogurt, chopped green onions and diced celery. Use as a healthy chicken salad filling for sandwiches or pita pockets. Add a touch of spice with a dash of curry powder.
Protein salad fillings: Egg salad, chicken salad or tuna salad make great fillings for sweet pepper halves.
Chicken skewers: Coat skinless, boneless chicken pieces with peanut butter mixed with a dash of soy sauce, water, and lemon juice. Slide onto skewers and grill or bake until cooked through. Cool before packing.
If peanut butter is a no-no for you, substitute low-fat yogurt or mayo with diced roasted sweet peppers from a jar. Season to taste.
Serve the skewers with an Asian dressing side-dip for a delicious and different picnic plate. 
Shrimp: Enjoy cooked shrimp with a side dip like guacamole, made from avocado mashed with lime juice, chopped coriander and chopped tomato.
Hummus: The chickpeas in hummus make this dip a great vegetarian high-protein option. Stuff into a whole wheat mini pita pocket along with grated carrot, diced sweet peppers, and cucumber or tomato slices. Add a dash of pepper sauce if you like your hummus spicy.
Have fun with veggies
Eat veggies with dips: Cut up raw veggies and serve with a dip like hummus. Or dip into low-fat cream cheese mixed with a pinch of your favourite herb or spice.
Make a veggie dip: Throw a handful of chopped spinach or watercress into your blender and blitz with low-fat cream cheese. Enjoy with whole grain crackers.
Use veggies like crackers: Spread slices of sweet pepper, cucumber or zucchini with low-fat cream cheese or peanut better.
Get creative with carbs
Mexican pinwheel sandwiches: Use a rolling pin to roll a slice of whole grain bread very thin. Spread with low-fat cream cheese mixed with salsa. Roll the bread up like a cigar and slice.
Carb-based salads: Cook up pasta, rice or couscous as the basis for a main-meal picnic salad. Cool and mix with a protein, diced veggies and a low-fat dressing.
Put safety first
Avoid picnic health problems by following these simple guidelines.
Always pack picnic foods in a cooler.
Make sure all cooked foods are thoroughly cool before packing.
Make sure foods stay cool by adding an ice pack to the cooler.
Keep foods in the cooler until you are ready to eat.
Throw out any foods that are taken out of the cooler but aren't eaten.
For diabetes diet tips for other summer mealtimes, check out our article on this site – Hot weather tips for diabetes diets.