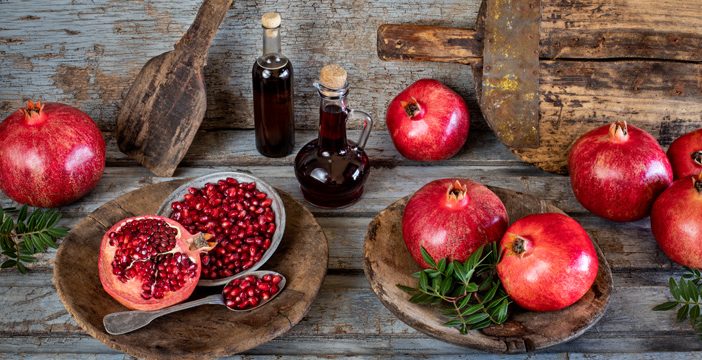 The beautiful pomegranate with its ruby red arils (seeds) and refreshingly tart taste has become a popular grocery pick, especially when in season from October to January. But is this exotic fruit that dates to ancient times particularly good for people with diabetes? Let's find out.
Is pomegranate good for people with diabetes?
The simple answer is yes, pomegranates are good for you in moderation! In fact, people in the Middle East (where the pomegranate originates) have considered the fruit as a medicinal plant and treatment for diabetes. While some older studies have shown that the antioxidant compounds in pomegranates help lower fasting blood sugar levels in type 2 diabetes, a more recent review has discounted this.
What are the health benefits of pomegranate?
The jury is still out on the benefits of pomegranate in diabetes, but there is no disputing that this fruit has some positive overall health impacts. For one, the pomegranate is full of nutrients including vitamin E, K and magnesium. It also contains plenty of polyphenols, which are powerful antioxidants that reduce inflammation to help keep some diseases (e.g., prostate cancer) and inflammatory conditions (e.g., arthritis) at bay.
Research has also found that pomegranate juice may help lower blood pressure and bad cholesterol, protecting the heart and its arteries, while also improving learning and memory. Due to its antioxidant properties, pomegranate juice may reduce kidney stones and increase endurance during exercise, too.
Finally, some research indicates that pomegranate compounds can increase levels of good gut bacteria and reduce inflammation in the digestive track to promote better digestion. Read more on the link between diabetes and digestive issues.
What is the impact of pomegranate on blood sugar?
Some older studies have shown that pomegranate juice and extracts can significantly lower blood sugar levels and improve insulin sensitivity, but newer research has disputed that. The good news is that pomegranates are a low-glycemic fruit, which means they won't spike your blood sugars as much as other, higher GI carbohydrates will. One-half cup of pomegranate seeds contains approximately 16 g carbohydrate.
What is the difference between having pomegranate fruit vs juice?
As with most fruits, it's always better to eat the fruit itself (the fibre-rich pomegranate seeds) for nutritional value, rather than drink a bottled pomegranate juice. While there are still health benefits to the latter, pomegranate juice has less fibre and vitamin C, compared to eating the fruit arils.
If you do opt for drinking your pomegranate, be aware that bottled juices may contain added sugars. Most people can safely drink a serving of pomegranate juice most days but if you have diabetes, be sure to check with your healthcare provider before adding it to your regular routine.
How can you use pomegranate in your diabetes diet?
While you can't eat the thick red skin of a pomegranate, the hundreds of juicy seeds beneath it are delicious sprinkled on salads, oatmeal, cereals, hummus, yogurt and even poultry dishes. They're also tasty all on their own for a snack.
Here's a delicious recipe for grilled eggplant rounds with pomegranate.
Pomegranate seeds can be a little difficult to remove, but their health benefits are well worth the effort. Check out our instructions below for a simple method to remove the seeds. Alternatively, look for shelled pomegranate seeds in the fresh section of your grocery store for added convenience.
How to peel a pomegranate
 Here's an easy way to get at those juicy seeds:
Cut the ends off the pomegranate
Score the peel into sections with a knife
Pull it apart over a bowl of cold water and drop the sections in
Remove the seeds while submerged in water (they should easily separate from the peel which will float to the top while the seeds sink to the bottom)
Remove the peel and use a strainer to strain the pomegranate seeds
Enjoy right away or freeze for later use
For all their health impacts, pomegranates should be on everyone's radar. Whether as a snack or a breakfast, lunch or dinner add-on, these nutrient-dense fruits deserve a spot in your meal plan from time to time.