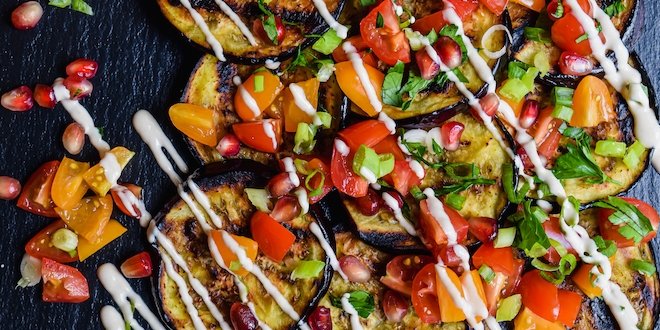 Ingredients
2 small eggplants
½ tsp sea salt for sprinkling
3 tbsp olive oil for brushing on the eggplant
1 cup cherry tomatoes, sliced in quarters
¼ cup pomegranate seeds, optional
2 tbsp chopped fresh Italian parsley
2 green onions, chopped
Tahini Sauce:
2 tbsp tahini (sesame seed paste)
2 tbsp cold water, more as needed
Pinch of sea salt
Directions
Preheat the grill to med high.
Slice eggplants in ¼-½ inch rounds and lay out on a large sheet of paper towel.
Sprinkle with sea salt and let stand for 20 minutes, the eggplant will sweat. Blot the slices dry with paper towel.
Brush each slice of eggplant with olive oil on both sides.
Grill the slices for about 5 minutes per side (the slices should be golden brown on each side and a little crispy, you may need more time).
In the meantime, make the tahini sauce by whisking the tahini with the water and salt, add more water to thin it out. It should be the consistency of heavy cream.
On a platter, lay the eggplant rounds in a single layer.
Sprinkle the chopped tomatoes, pomegranate seeds, parsley, and green onion. Drizzle with the tahini sauce.
Serve warm or at room temperature.
Serves 6