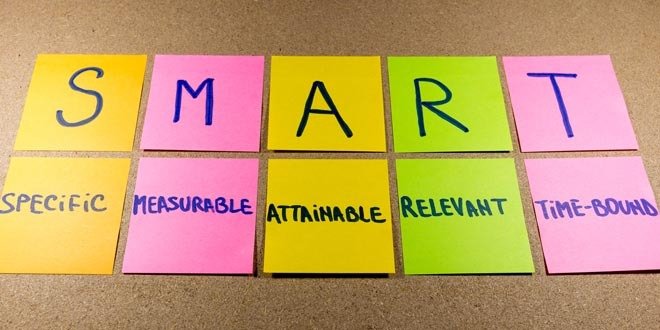 Self-managing diabetes, whether type 1, type 2 or gestational diabetes, can be very challenging and empowering at the same time. Just remember – change does take time. To be patient with change is very important.
S.M.A.R.T. goals for diabetes management is a tool that has helped people with diabetes experience life-changing improvements.  It is a tool that assists individuals break down a goal into smaller specific goals. These smaller goals can be worked on more easily than working on the larger goal, which may be viewed as overwhelming and therefore unreachable.
S:  SPECIFIC GOAL
Small steps – set smaller, easy, specific goals, such as taking medication every day. When you are setting up this goal ask yourself the 6 "W" questions:
Always talk to your health care professional if you have questions about your treatment plan.
Who:  Who is involved? "My endo team, my husband"
What:  What do I want to accomplish? "For my diabetes to be better controlled: by taking my medication everyday"
Where:  Identify where you can give yourself your medication
When:  Establish a time when medication is to be taken
Which:  Identify requirements and constraints, such as "where at work can I give myself my insulin that will be a safe place for me?"
Why:  Specific reasons, purpose or benefits of accomplishing the goal. "By taking my medication daily my A1C should improve, I should feel better."
Check feelings. What do you feel about your goal? This is an important question. The way you feel about your goal can mean the difference between intending to change and actually changing. It is normal to have both positive and negative feelings. The goal that has more positive feelings is usually the one to be achieved.  Do you feel any of these things when you think about the goal you have chosen?
Hopeful
Excited
Confident
Determined
Optimistic
Motivated
M – Measurable – write down measurable goals in a clear, concise fashion and display them in a book that you like to look at and hold or on the fridge.
To determine if your goal is measurable, think about:
How much of something will you do?
How long will you do it for?
How often will you do it?
How much medication do I need to give myself? How many times do I need to give myself insulin each day?
How will I know when I have accomplished the goal? "When do I obtain my 3 month A1C?"
A – Attitude /Achievable – Positive self-talk – enjoy the call to action, consider starting with a walking program: take your time as you walk, smell the roses, listen to the birds, feel good about being proactive and a positive attitude can't be far behind.
The best goals are usually not too easy and not too difficult. The goal has to be big enough to feel interesting and worthwhile, but small enough to feel doable.
Planning small goals and achieving them one step at a time will help you experience success and build momentum. Have you ever tried to meet a goal and ended up discouraged when it didn't work out? This helps you do the opposite: succeed at something small first so that you gain confidence to keep going.
Think about your goal. What are the chances you will succeed at this, right now? Try rating your confidence on a scale of 1 to 10. If your number is less than 7 or 8, you may want to revise your goal to make it more achievable.
A – Attainable/Achievable – When you identify goals that are most important to you, you begin to figure out ways you can make them come true. You develop the attitudes, abilities, skills, and financial capacity to reach them. You begin seeing previously overlooked opportunities to bring yourself closer to the achievement of your goals.
You can attain most any goal you set when you plan your steps wisely and establish a time frame that allows you to carry out those steps. Goals that may have seemed far away and out of reach eventually move closer and become attainable, not because your goals shrink, but because you grow and expand to match them. When you list your goals you build your self-image. You see yourself as worthy of these goals, and develop the traits and personality that allow you to possess them.
R – Realistic – Set realistic goals – be realistic about change
You are the only one who can decide how important your goal is. An important goal is frequently easier to reach since the importance of the goal can be a motivational force.
Setting achievable goals is a skill, which means you can learn how.
Choose a goal that you want to do. If you have not exercised in the last year, it may not be realistic to start walking 2 miles a day. Maybe walking 2 blocks every day may work better and be successful.
Break a big goal into small steps
When deciding if your goal is realistic, think about whether you have the things you need:
information
ability
skills
resources
help
T – Timely – set realistic timelines to short term goals.  If you set a deadline, you'll know even tougher tasks will be over soon. You can also try telling someone else about your goal and deadline so that they can support you and cheer you on.
With a deadline you can:
set aside time to make it a priority
know for sure when you achieve it
achieve it, feel good about it, and move on!