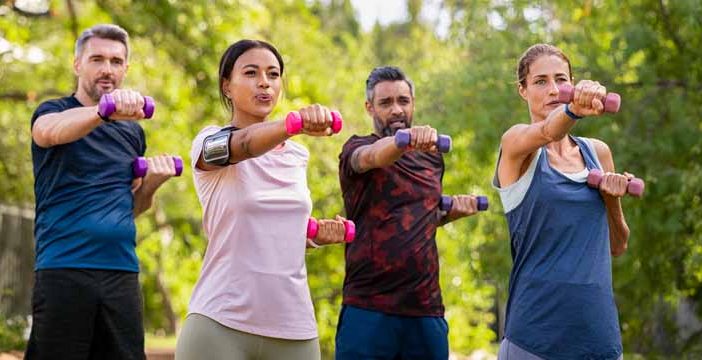 I'm sure I'm not the first (or even the tenth!) person to tell you that exercise is a critical tool for managing diabetes. If you exercise regularly, great! If not, what's stopping you? Lack of time? Motivation? You don't know what to do? Researchers at Duke University tried to find out why people stopped fitness programs by analyzing several large trials called the Studies of a Targeted Risk Reduction Intervention through Defined Exercise (STRRIDE). Two very interesting pieces of data emerged.
Firstly, the biggest reason why participants stopped exercising was a lack of time. Nearly half of all participants stopped because they felt the prescribed fitness routine was too time-consuming.
Secondly, most people who dropped out did so in the first 3 months of the program. The exercise intensity was steadily ramping up during this time. Those participants who made it to 3 months had a very low dropout rate for the remainder of the study.
So why is this information useful? Well, it's telling us that when you start a new fitness program, you have to find the time to do your workouts and you have to stick with the program long enough to get over the initial shock to the system.
Let's talk about time
The simplest and best way to find time for your exercise routine is to create a detailed weekly schedule for your workouts. Start by being realistic. How many actual training sessions do you think you can fit into a week? What times work best? Some people like to load their weekends because that's the only time that consistently works. However, if your weekends are crammed with kids' sports or household chores, weekday lunchtime workouts may be a better choice. Mornings or evenings are also good options. While getting up at 5:00 or 6:00 am for a workout is a classic way to get in your exercise, make sure you are not losing valuable sleep. If you wake up very early, make sure you go to bed on time!
Start with just 1 or 2 sessions if that's all you can manage for now. Your goal is to get into a regular routine. You need to get to the 3-month mark, at which point you are far less likely to stop for any reason.
The key is to make sure the times you picked are absolutely locked down for nothing but exercise. No last-minute meetings, "important" errands to run, or snooze button hits. Your workout time is for workouts only.
Another approach that can help is to break up your daily exercise volume into smaller chunks. Let's say you simply can't find a full hour to do the walk you planned for today. How about 4 15-minute walks instead, sprinkled throughout your day? The end result is the same! What matters is getting everything done.
How to make exercise a habit
One of my favourite books, and one that I read repeatedly, is Atomic Habits by James Clear. It is an excellent guide on how to make habits stick, and it has a great system that you can apply to exercise. This system (which the author calls the "Four Laws of Behaviour Change") needs you to make exercise:
More obvious
More attractive
Easier
More satisfying
The obvious part is covered with the time management tips we talked about above. If the planned workout is sitting there in your schedule staring at you, it can't be any more obvious than that!
How do you make exercise more attractive? If you don't like to work out because it makes you feel tired or you don't like to sweat, try to find ways to make it more enjoyable by inviting a friend or family member along. Long walks are much more fun if there is someone to talk to, and I have always found that lifting weights with a training partner is way more interesting! Partnering up also has the added benefit of making it harder to skip your workout because you now have an appointment with someone close to you that you have to keep. Accountability works.
You can also reward yourself for each successful week or month of exercising, although try not to use food as a motivator. That is a bit counterproductive.
Making exercise easier isn't really about working less hard, but about making sure there are no impediments to getting things done. For example, setting your workout clothes out the night before avoids the temptation of "I didn't want to wake up my spouse/partner by looking for shorts" types of excuses.
One of the best things you can do, if budget and space are not an issue, is invest in home exercise equipment. A spinning bike, a set of adjustable dumbbells or some stretchy bands can be incredibly helpful because working out from home eliminates the complexity and time requirement of going to a gym.
The satisfaction part of exercising means sticking to the plan and achieving results. Knowing that you did everything you set out to accomplish, and that you did something wonderful for your mental and physical health, are powerful motivators. Your goals might be feeling or looking better, improved blood sugar control or something entirely personal. As you move steadily towards your goals, you'll find you start to look forward to your workouts.
To recap: start by setting aside time for your workouts, then partner up with a friend and make sure getting your workout in is easy and uncomplicated. Set yourself a short-term goal of making it to the 3-month mark with your exercise regimen. After that, your habit is ingrained and it will be much easier to stick to your routine!