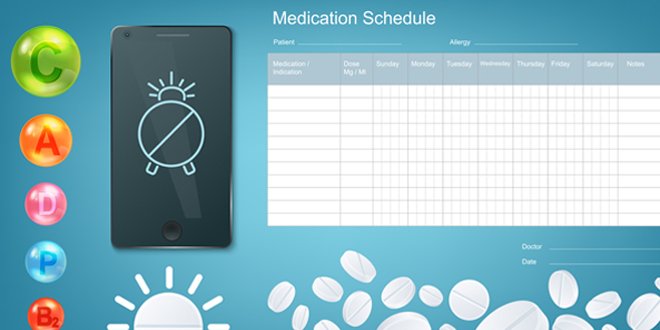 Even with the best intentions, it's easy to forget to take your medication once in a while. But having some simple cues in place to remind you, can help ensure you always stay on track. Here are some key tips below to help you remember to take your medication so you can keep your diabetes in check, including a printable dosing reminder chart!
Add it to your calendar. Whether that's putting a note in your daily online calendar or on your mobile device, seeing a reminder every day can be a good trigger to take your medication. There are also free medication reminder apps that you can download onto your phone that will help you track your daily doses.
Make it heard: Set your alarm clock, computer or phone with a regular daily reminder and you'll have less chance of forgetting a dose.
Organize your meds: Use a pill box or dosette – a box with compartments for each day and dosing time—to split your pills into daily doses and keep on top of what you need to take when. Keep your dosette in a visible place away from heat, moisture, children and pets.
Ask for blister packs: Several pharmacies will do the organizing for you by packing meds into blister packs to ensure the right medication is taken at the right time every day. Blister packs are also a good way to keep track of when medication refills are needed.
Make it habit: Take your medication at the same time you do another daily activity, such as brushing your teeth, having your coffee or with a meal.
Put it on paper: Putting a medication reminder on paper means you can also stick it in a spot where you'll see it every day (e.g., the bathroom mirror). Using a paper calendar or medication journal that you can check off when you take each dose is another good option. Click here for a printable medication reminder chart.
Ask for help: There's a good chance you're not the only one in your family or circle of friends taking medication. Create a buddy system where you can text each other when you've taken your meds.
Flip it over: Each time you take your medication, flip the bottle upside down. This is an easy visual cue to help you see if you've taken your meds.
If you find you're still missing doses even with these reminders, speak to your doctor or pharmacist about ways to simplify your medication regime. They may be able to provide you with an alternative medication that doesn't need to be taken as often. They can also advise you on which medications can be taken together safely, and also which ones are okay to take with meals.
For most people with diabetes, taking medication is an essential part of managing their disease. In fact, when you miss doses, you put yourself at risk for future diabetes-related complications.