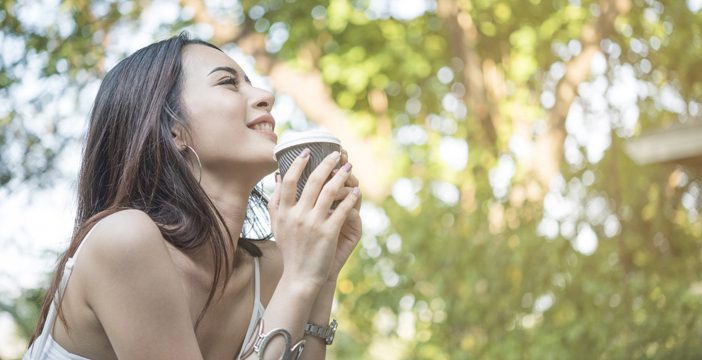 AUTHOR: Gail MacNeil RN, CDE
REVIEWED BY: Dr. Barry Simon, MD, FRCP, Psychiatrist and Psychoanalyst
Diabetes distress is your emotional response to living with diabetes. It is normal to experience some stress, but when the level of stress becomes overwhelming it can significantly undermine your confidence and ability to take care of the daily tasks required for your diabetes management.
In our previous article, we shared the link to the Diabetes Distress Survey. Completing this survey is the first step in identifying not only the level of your anxiety, but also the specific areas that are causing you the highest levels of stress.
Diabetes distress: type 1 and type 2 diabetes
Researchers have noted some differences between people with type 1 and type 2 diabetes regarding specific areas of stress. Studies show that, in type 1 diabetes, the most common distress relates to emotions, such as feelings of powerlessness and burnout, fear of hypoglycemia and worry about the future. In type 2 diabetes, stress often relates to managing the condition, guilt about having diabetes and concerns regarding the development of complications. Results from the screening tools also identify that the "patient-provider relationship" is a common area of stress for most people with diabetes.
A very important part of completing and interpreting this survey is to help you identify how your emotions can be directing your behaviour. With this reflection, you can begin work on your specific interventions. The next time you meet with your healthcare team, a great place to start the conversation regarding your mental health is by sharing your survey results.
How you can interpret your diabetes distress survey results
To start, what is your total score? If it is less than 2, your stress level is under control, and you are encouraged to continue with the management plan that is working well for you. Total scores from 2.0 to 2.9 are considered 'moderate stress' and scores of 3 or higher are classified as 'high stress.' These scores indicate that your emotional response is having a significant impact on your ability to deal with the daily demands of diabetes. Do not interpret higher scores as a failure but rather as a call to action!
There are four domains, or subscales, that can help you identify the areas where you are experiencing the highest levels of stress. Each of these areas is potentially problematic and you can experience varying degrees of distress in each domain. The more specific you can be in what is contributing to your level of stress, the more directive you can be in your interventions.
Emotional distress refers to your fears regarding the complications of diabetes and how much energy it takes to do the daily tasks necessary to manage your diabetes. Emotional distress can be much more exhausting than the work required to take care of diabetes.
Physician distress describes your concern with your relationship with your physician or healthcare team. It may be that you feel they do not understand what it is like for you to live with diabetes or that they do not answer your questions or give you practical advice.
With regimen distress, you have feelings of discouragement and frustration about keeping up with the specific demands of your medication regimen, blood glucose monitoring, healthy eating and exercise, all important components of the daily program you have set up for yourself.
Diabetes is a family affair. Relationships can become very stressful when you have expectations of how you would like to be supported, but your family either does not share your concerns or tries to control your diabetes management. This is known as interpersonal distress.
When reviewing your results, where is your highest area of stress? Reflect upon how you answered the questions in that area. What is causing you the most anxiety?
What can I do about diabetes distress?
Once you have identified the diabetes distress areas that are causing you the highest level of stress, you can begin to work towards reducing it. Diabetes distress is caused by two different issues: the first is that your diabetes knowledge may be a bit rusty and an opportunity to review your diabetes education eases your distress. The second involves negative thinking about living with diabetes. In this latter group, learning to cope better with the stress, burden and negative thinking that come with taking care of diabetes is key. Let's look at each group separately.
Diabetes distress: time for a knowledge reboot
Many people have distress because they aren't sure how to cope with high blood sugars, how to deal with low blood sugars overnight or how to count carbohydrates, for example. All of these are 'how to' problems that lead to diabetes distress. If you feel alone with this task, it is not surprising that you will be annoyed with your healthcare team or your family. So, for some people, the recovery from diabetes distress is a knowledge game.
In this group, you have one goal: define the specific issue that triggers distress. It is more helpful to say 'I am very distressed by my fasting blood sugars' than saying 'my blood sugar readings stress me out.' If you are in the "know how" group you will typically score high on regimen or physician distress. You may feel alone with your diabetes, but the real issue is that you are alone without sufficient knowledge.
If you are in this group, seek out reliable knowledge or see if you can book a time with your diabetes educator. The first step is to be very specific and ask yourself, "When am I specifically very confident about my diabetes care?" Let the results help you be specific. If you have high morning blood sugars, the problem may be your overnight control. Consider strategies for improving overnight blood sugar. The steps are beyond this article, but by being specific and identifying what you are distressed about, you can begin to problem-solve the issue. Create a smart goal – a specific, measurable plan for dealing with overnight highs and making changes. Be realistic in your expectations and realize that you can make other changes until you get a reasonable result.
Diabetes distress: your negative self-talk is leading to burnout
For other people, the problem is emotional distress caused by taking care of diabetes. If you are in this group, you know what to do but the act of doing it causes you a lot of distress. You may even have a very good A1C, but you are experiencing a lot of negative self-talk. The diagram below helps you understand this issue.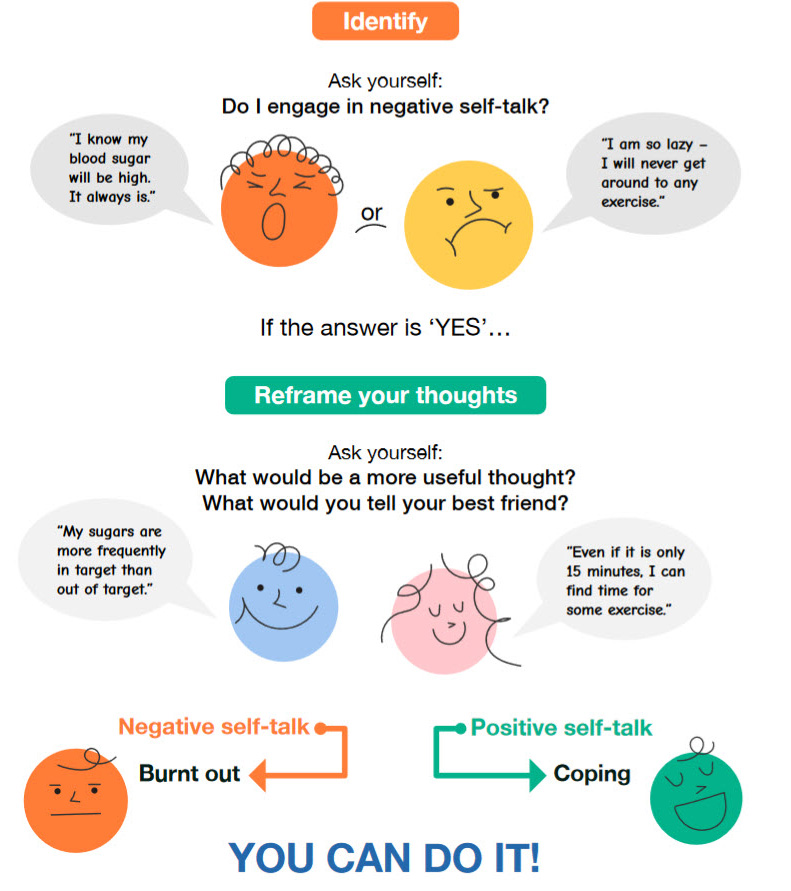 This situation is a specific diabetes care moment. Your 'inner reaction' is the thoughts or images you have about the situation. If your inner reaction is causing the distress, read on. Ask yourself, "Am I engaging in negative self-talk?" The negative self-talk is your automatic reaction to the situation. Most people don't have perfect blood sugars, but if you have expectations of perfection a high blood sugar triggers distress.
Case study: Jayne
When Jayne started to explore her feelings, she realized that before she even started to check her blood sugar she was engaged in negative self-talk: "The numbers are going to be high, the day will be ruined, so I might as well give up." Those series of thoughts trigger a great deal of frustration, annoyance and even hopelessness. It is not surprising she is distressed. Diabetes is a demanding illness, so it is not Jayne's fault; unfortunately, only she can fix it.
Jayne always assumed she was doing something wrong if she had a high blood sugar. This negative self-talk leads to anger, guilt and shame and may even lead her to give up on her diabetes care. Jayne may test less often, not because she doesn't know what to do if it is high, but because she wants to avoid the negative emotional response of high blood sugars.
How to ease negative self-talk
What would happen if you focused on changing your expectations and your thoughts, not your care? For example, not all of Jayne's blood glucose readings are high. If she could shift her focus to the blood glucose readings that are in target and congratulate herself when this happens, she will develop a more positive feeling associated toward her blood glucose testing. She can further explore what she did that may have contributed to the lower reading. Jayne also needs to separate herself from the readings and not label herself 'good' or 'bad' according to the numbers.
Many factors cause blood sugar readings to vary. Diabetes is a physiological condition that you can never have 100% control over. This is where the healthcare team can help Jayne explore factors she can control and not blame herself or feel guilty for the factors that she cannot control. By changing her expectations and dwelling on the positive, Jayne will find that her confidence will increase.
To develop new perspectives, find the positive in what you are doing. Talk to yourself about this. Begin to recognize all the times you are doing well. Also, take note of your negative thinking and write it down. Ask yourself two simple questions: What would be a more helpful thought? What would you tell your best friend? The act of recognizing a thought such as: 'I can't do anything right' and re-framing it to 'most of the time, I am doing OK, I need to be less hard on myself' will help ease the stress that leads you to need a break.
Dealing effectively with your stress involves developing new attitudes promoted by your successes, having more realistic expectations and being open to new learning. Technology is showing us new ways to simplify every aspect of diabetes care, but collaboration with your healthcare team is a key to successful management.
In our next article we will explore this discussion with your healthcare provider. We will also provide you with tips to get the conversation going and some ideas to help ensure you are heading on the right track.
Great work to date!