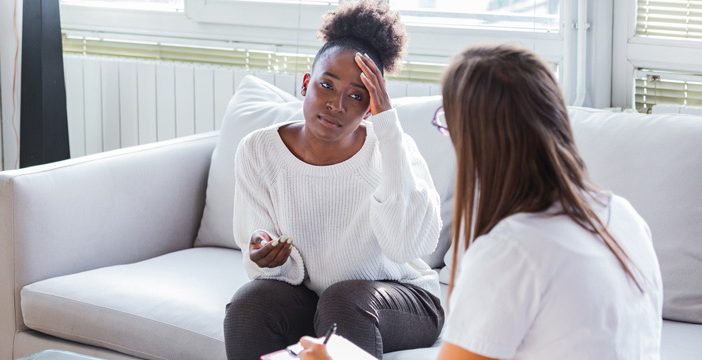 "It is just another day of high blood sugars," Jayne remarks to herself as she checks her morning blood glucose level. She has seen a lot of these lately. Jayne knows what her family doctor will say in their virtual check up later this month and she also knows that her A1C is well above target. But she just doesn't have the mental energy to deal with this issue right now.
Have you ever found yourself in this situation? If so, please realize that you are not alone. It takes hard work and diligence to manage your diabetes, and this is not easy. It is natural to have negative thoughts that become so overwhelming they put us into a state of inertia. It is just easier to do nothing! Experts refer to this as 'diabetes distress' and recognize that more than 40% of people with diabetes will experience it at some point in their life. The danger is that high blood glucose levels can lead to complications and being immersed in these negative thoughts can prevent you from taking the necessary action. It then becomes more and more difficult for you to achieve your blood glucose targets.
In this situation, it is very important that you share your thoughts and feelings with others, especially your family doctor and diabetes healthcare team. They need to understand what you are thinking before they can begin to collaborate with you on an appropriate management plan. However, a recent survey clearly showed that people with diabetes feel their family doctor "does not have time to listen" and even if they did, "I do not know how to initiate the conversation."
This article is the start of a series that will address these issues. We will provide assessment tools, suggestions from a psychiatrist regarding how to deal with stress and some practical tips on how to start the conversation about your emotional wellbeing with your healthcare team.
What is diabetes distress?
The place to start is to understand what diabetes distress is and how it may be affecting your diabetes management. Diabetes distress is a result of the daily stress and burden of living with diabetes. It is absolutely not your fault, but rather a response to the inevitable impact of living with the daily responsibilities of having to take care of yourself. The multiple activities you are expected to do to control your diabetes include eating healthy meals at regular times, monitoring your blood glucose, keeping active, checking your feet on a regular basis, and so much more. It becomes very frustrating when you have done the same thing from one day to the next, yet your blood glucose numbers change every day. All of these activities cause a demand in your life that you never signed up for. Over time, the distress goes beyond a certain point and the emotional turmoil, anger and sadness become too much to handle.
Diabetes distress can manifest in a number of ways, including feeling emotionally burdened by the disease, thinking that family or friends are not supportive, worrying about future complications of diabetes, or sensing that the diabetes healthcare team is not available or helpful. So, remember that there is a normal amount of distress in living with diabetes. It is simply the emotional response to the daily demands of living with diabetes. What makes it 'diabetes distress' is that the amount of emotional distress reaches a point that your care or emotional well-being begins to suffer. The clues are that you begin to long for a holiday from diabetes each time you test or give insulin, or perhaps you begin to miss insulin boluses or your oral medication just to 'get a break'. After missing a dose, you feel guilty and your mind is filled with worries about your future and the possibility of complications.
It is important to know that diabetes distress doesn't have to mean your time in range drops or A1C is elevated. Many people with diabetes distress have excellent control. The level of emotional distress is the clue that they have reached the point of diabetes distress. The distress can be so high that you experience high levels of anxiety and a feeling of loss of control.
Is it diabetes distress or depression?
Many people who have diabetes distress wonder if they have become depressed. People sometimes refer to the term 'depression' or 'symptoms of depression' related to chronic illness, but diabetes distress is different than depression. Depression is a general loss of interest in your life, while diabetes distress is apathy towards diabetes specifically. Motivation drops towards self-care, while you still may enjoy your friends, family or work.
Diabetes distress is the emotional burden of living with a chronic illness that has daily demands. People with thyroid problems or blood pressure issues take a pill a day and go on with their lives. You have 5 to 7 moments of care per day, every day, without a break. It is not surprising that over a lifetime of living with a disease, you want a vacation. The normal response to distress, emotional burden and overwhelming feelings is avoidance. The end result is that you may find yourself less interested in doing the tasks you know you need to do for your diabetes management and your mind may be telling you, "I can't do this."
What can you do?
The first step is to do a 'check up from the neck up'. You need to identify the areas of diabetes management that are causing you significant stress. You can do this by taking the Diabetes Distress Survey. This is a validated tool that has been developed by experts in the field and is very easy to work with. The results will be a good starting point for discussion when you meet with your healthcare team. You will be able to focus the conversation on the areas that you are finding particularly challenging to manage.
Even though you may feel alone, your healthcare team is there to support you through these difficult times. There are, however, several actions you can take initially to help yourself and individualize your care. Let's start with the Diabetes Distress Survey. In our next article, we will discuss how to interpret your results from this survey and suggest some tips you can work on to decrease your diabetes distress.
Author: Gail MacNeil, Nurse, Certified Diabetes Educator