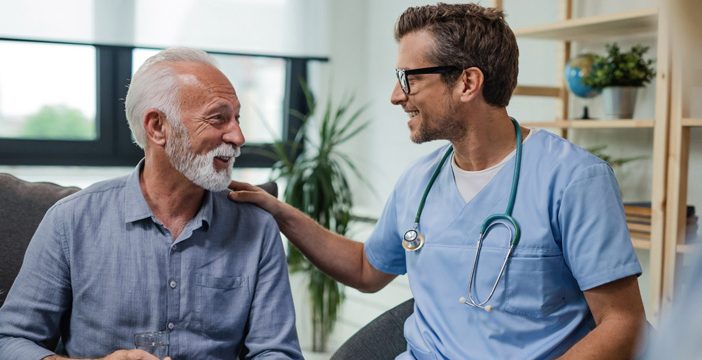 AUTHOR: Dr. Barry Simon, MD, FRCP, Psychiatrist and Psychoanalyst
REVIEWED BY: Gail MacNeil RN, CDE
Diabetes distress is the emotional response to dealing with the daily demands of living with diabetes. In our previous article, we reviewed how you can recognize that you are experiencing diabetes distress as well as how you can effectively measure it using the Diabetes Distress Survey. We spoke of two different causes of diabetes distress: 1) knowledge gaps; and 2) psychological distress related to negative thinking due to the daily demands of diabetes. Most people have a combination of the two. Either way, it is important that you speak with your diabetes healthcare team about your difficulties.
You know which areas of diabetes management are causing you the highest level of stress and you have your goals in mind. Hopefully, you have started to recognize how negative thinking is impacting your level of distress. But you may need help to achieve these goals. This is where you turn to your healthcare team. However, many people with diabetes have wondered, "How do I talk to my doctor about how I feel? He/she is always looking at my numbers and I don't think they really see me."
How to get the most out of your healthcare visit
The first step is to 'be prepared' by organizing your thoughts. You have done your homework so be confident with the information you have. Remember, you are the expert when it comes to your diabetes management. Focus your thoughts on what you want the team to know and be clear as to what you want to achieve in this conversation. Review your goals and where you feel you need their help in achieving them. It may be that you need more information about monitoring systems or more diet-related ideas or help reducing your anxiety levels when you are in certain situations. The more specific you can be, the better able the team will be to help you.
The conversation may be started by your doctor asking: "How are you doing?" Instead of referring to your physical health, you respond with a comment about your emotional health: "I have been feeling stressed lately." Be bold, be honest and recognize your stress as your top priority. However, simply saying you are stressed may not get your healthcare provider's full attention. You need to say what and how you are stressed about with respect to your diabetes. One of the best ways to do this is to share your diabetes distress scores.
Let's imagine that you start the conversation by showing them the work you have done, either using a paper copy of the Diabetes Distress Survey or by summarizing the results. Having some notes to refer to helps keep you focused and gives a direction to the conversation. It is very helpful if you can identify your emotional response in relation to the management task, for example, "I feel guilty when I see high blood glucose numbers in the morning, so I no longer test at that time." Or you might say, "I ate a doughnut for breakfast. Then I felt so frustrated and disappointed in myself that I gave up on my diet for the rest of the day."
Comments like these are very revealing and can help the team delve more deeply into your 'emotional reality' in living with the most difficult aspects of diabetes. Be sure to also discuss the areas of diabetes where you feel you are having success. Your coping skills from these areas may be transferable to areas where you are experiencing more stress.
The conversation may flow like this:
HCP = healthcare provider
PWD = person with diabetes
HCP: "Your A1C is higher than your last visit. Can you think of any reasons for this?"
PWD: "I have been stressed lately about my diabetes and it just seems that doing things to manage it takes so much energy."
HCP: "Is there a particular area you are struggling with?"
PWD: "Yes. I was reading an article on diabetes distress, and I did the survey they suggested. The results showed that I have a lot of stress in dealing with my diabetes regimen. And I can tell you that I hate measuring my blood sugars and seeing those high results, especially in the morning when I have not done anything wrong yet!"
HCP: "Could you share those results with me?"
You now have an engaged and informed healthcare provider, who will seek to understand your concerns and – very importantly – collaborate on potential interventions.
HCP: "Can we explore the various reasons why those fasting blood sugars may be elevated?"
PWD: "Sure."
HCP: "There are many reasons why this can happen, and most are not related to your actions but to the physiology of diabetes. These physical changes may require a change in medication. As well, with advancements in technology we have new tools to show us what is really happening."
PWD: "So, it is not my fault."
HCP: "No, not at all. We need to figure out the small changes that we can make to improve your blood sugar results. Many people see diabetes as a problem with themselves, instead of a problem to be solved."
HCP: "The point here is that it is not your fault that the blood sugars are high in the morning. It is the nature of diabetes. I can understand how important it is for you to see your blood glucose in target range to start the day, so let's look at the tools we have to help reduce your fasting blood glucose."
HCP: "Let's take a quick look at your diabetes distress score overall. Many people I see have high scores because of the negative thinking they have about diabetes. The diabetes distress score is designed to pick up that negative thinking. You need to remember that diabetes is a demanding disease and negative thinking is expected. I often tell people 'No one wants to take care of their diabetes, but they are willing to do it for something that is really important to them.' Do you have something important to you?"
PWD: "I do, my children and hopefully grandchildren someday."
HCP: "When you feel distressed by diabetes, focus on these simple words: 'I am willing to take care of it because of ….' Try to focus on the image of your children and not on the negative thinking in your head. You may even want to have a picture of your children near the place you take care of your diabetes. In other words, keep your eye on the prize and not on the pain."
Before ending your appointment ask yourself, "Did I feel listened to? Were my questions answered? Do I have a plan going forward?" If the answer is no, be honest and voice your concerns. If the answer is yes, now you are mutually accountable to see this through.
Wondering how you can talk to your doctor about how you are feeling? Plan your visit using these quick tips in order to help make it a success!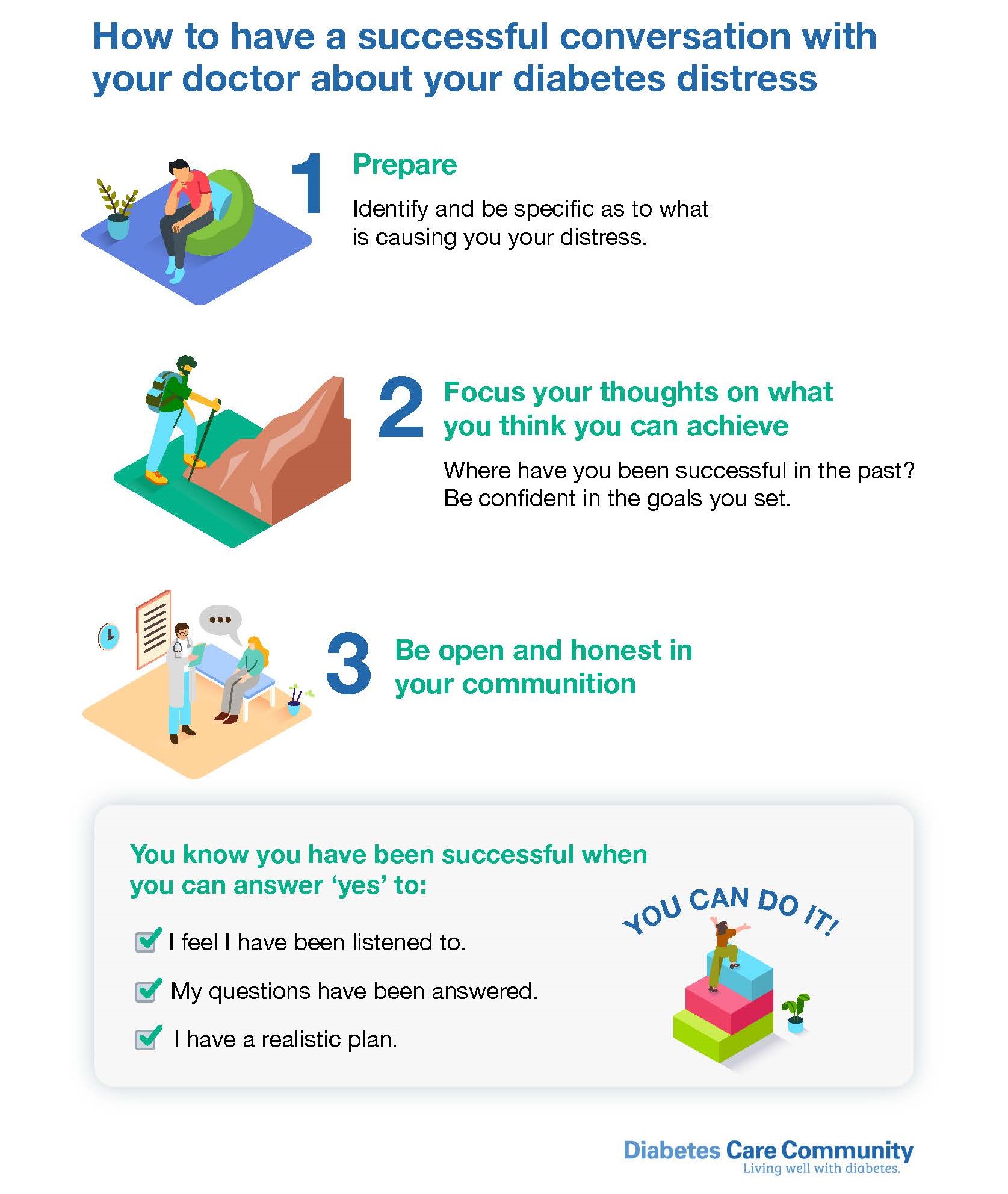 Talking with your healthcare professional can be intimidating but there is so much you can do to make this encounter more effective. Being prepared with identified concerns, focusing your thoughts, setting realistic expectations, and being open and honest in your communication are all valuable points to consider. For follow-up visits, start the conversation where you left off by reviewing your goals and successes, and then explore the problem areas.
By listening to and learning from each other, sharing ideas and agreeing on measurable goals, you will have a plan and a supporter to help you deal with your diabetes distress.