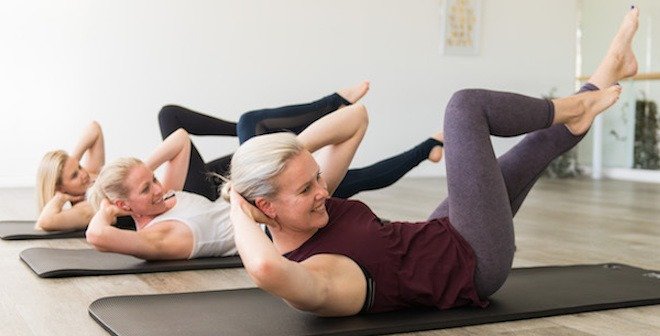 While the pain of sciatica or diabetic neuropathy may make you feel less inclined to exercise, there are some things you can do that will help you stay fit and may actually provide pain relief.
This article provides you with some great exercise ideas, as well as links to other articles about the benefits of exercise!
1. Stretching exercises
Stretching exercises help improve flexibility, and reduce muscle tightness and pain. These types of exercises focus on the areas of your body that help with mobility, such as your back, hamstrings and hips.
Back extensions: Lie on a mat on your stomach and straighten your legs behind you. Place your elbows on the ground and slide your shoulders down. Lift your upper back, pressing your hips into the mat. Hold for 30 seconds, return to starting position, and then repeat.
Hamstring stretches: Sit on the floor with both legs out straight. Extend your arms and reach forward by bending at the waist as far as possible, while keeping your knees straight. Hold this position for 15 to 30 seconds. Relax back into the starting position, and then repeat.
Sitting spinal stretch: Sit in a chair with both feet on the ground. Place your left hand on your left knee and your right hand behind you on the seat. Inhale and twist your torso to the right, keeping your hips forward and your shoulders down. Hold for 30 seconds and repeat three times, and then switch sides.
2. Core muscle strengthening
Core exercises help build abdominal and other core muscles in the body. They also help improve your posture and balance. Core muscle-strengthening exercises include push-ups, sit-ups, lunges and squats.
3. Stationary bike
People of all fitness levels can benefit from a strong cardio workout when riding a stationary bike. If you're a beginner, you can ride at a comfortable speed, without worrying about straining your muscles. As your skill and fitness levels increase, you can add tension for the feeling of riding uphill. Stationary bikes are available in a variety of sizes, styles and price ranges, making them suitable for a variety of lifestyles.
4. Walking
Walking is an especially beneficial exercise for people with type 2 diabetes, as it helps improve your body's sensitivity to insulin. It also elevates your heart rate, which increases blood circulation throughout your body. Walking regularly with friends or family members also makes this exercise a social occasion as well as a healthy one!
5. Swimming or pool exercises
Swimming and water aerobics (or aqua fit) strengthen both the upper and lower body. Since the water's buoyancy supports your weight, it's also a great way to get active if you have chronic pain or mobility issues. Regardless of your fitness level, you can get a great workout in the water, as there are plenty of modifications you can make to increase or decrease the difficulty of the moves.
6. Yoga and Pilates
Yoga and Pilates promote flexibility, strength, coordination and joint mobility. Both of these exercise regimens involve various body postures and movements, breathing techniques and meditation, which are also designed to promote physical comfort and mental well-being. A regular regimen of yoga or Pilates can help reduce stress levels and improve overall well-being. Learn more about balance exercises for people with diabetes here.
What is sciatica pain?
Sciatica refers to pain that radiates along the path of the sciatic nerve. This nerve branches from your lower back to your hips and buttocks, and then down each leg. Sciatica usually happens when a herniated disk or bone spur on the spine compresses the sciatic nerve.
Sciatica pain is actually quite similar to the pain that people with diabetes and neuropathy (nerve damage) suffer from, as the pain from neuropathy is generally felt in the legs.
Symptoms of both diabetic neuropathy and sciatica in the lower back and legs include:
Sharp, shooting pains
Burning or tingling sensations
A feeling of being pricked with pins (pins and needles)
Throbbing
Numbness