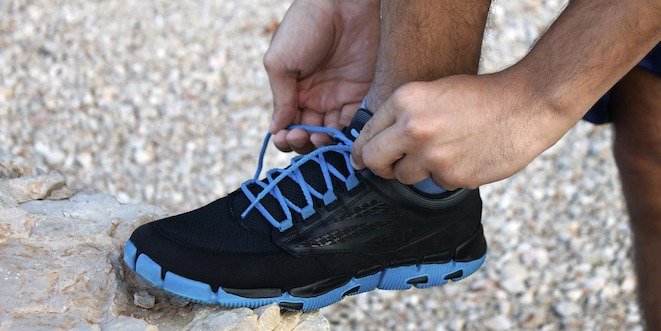 You are undoubtedly aware of the importance of regular activity for people with diabetes. Regular exercise can help control blood glucose levels, increase insulin sensitivity, improve circulation and muscle strength, help maintain optimum weight, and generally promote a sense of well-being. It is an important tool to help reduce the risk of complications, and may delay the onset of foot related diabetes issues like neuropathy – which damages sensory nerves – and peripheral vascular disease, which inhibits blood circulation.
However, it is important to understand the recommendations for physical activity and appropriate foot care. Make sure you take the necessary precautions during exercise to guard against foot care issues, and ensure you know how to spot related problems quickly. Here are some tips about physical activity and foot care for people living with diabetes.

Foot care problems that can arise
Damaged sensory nerves can mean that people with diabetes don't feel small foot injuries such as blisters or cuts. This problem can be made worse by poor circulation, which makes it harder for the body to heal itself. As a result, even small injuries can lead to serious infections and further complications.
Regular foot care can do a lot to prevent foot problems. This will include regular check-ups with the diabetes healthcare team, in addition to foot care in the home. For more information, check out our section on Proper foot care.
Take guidance from the diabetes healthcare team
People living with diabetes should check with a healthcare professional before starting an exercise program. Seek advice about the right kind of activity. Swimming or cycling are often recommended because they avoid abrasion to the feet. However, provided an individual with diabetes takes sensible precautions and wears the right shoes and socks, most forms of exercise are usually acceptable in moderation.
At very least, have your diabetes healthcare team member check your feet at least once a year.
Recommendations for foot care and physical activity
Prior to exercise
Before taking part in any physical activity, it is important to examine the feet for any signs of issues.
Check for dry, cracked skin and for blisters, cuts or small sores. Do not "pop" blisters – apply a bandage.
Look for corns, ingrown toenails and calluses.
Check for areas of redness or unusual swelling or warmth.
Always aim for a short warm-up period prior to exercise.
Protect the feet with shoes and socks
People with diabetes should wear shoes and socks at all times, even inside the house. Seamless socks and stockings will help avoid sores and blisters. Also make sure socks are clean and dry and look for materials that will help move moisture away from the skin. Natural-fibre socks are often most appropriate (cotton, wool or a blend).
Shoes should be comfortable and well fitting. Ask the diabetes health team if padded socks or special shoes or in-soles are required. In some instances, orthotics may be recommended. Podiatrists and orthotists can provide expert advice on this and other solutions for people with diabetes.
Whatever shoes are selected, ensure that new shoes are broken in slowly prior to being used for exercise.
Foot problems?
If foot problems arise, call your healthcare professional immediately. Small blisters or sores need to be taken care of before they turn into major complications. You can also check out Wounds Canada for workshops and additional resources.