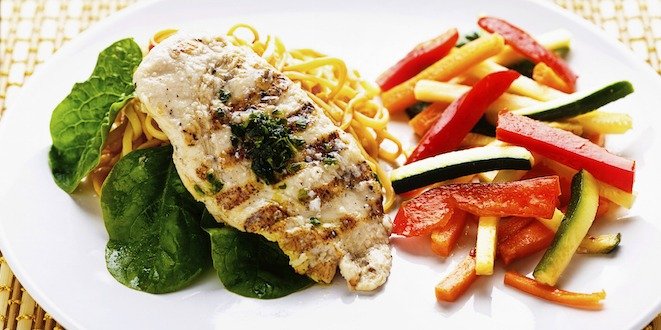 After being diagnosed with diabetes, you likely sat down with the dietitian and drew up a plan, went out and stocked up with healthy foods, and started eating more healthily. And now, just weeks later, you're back to your old eating habits.  Even worse, although you're eating your favourite foods, you can't enjoy them because you are feeling so guilty. Food has gone from being your friend to being an enemy.
If this sounds familiar, we do understand. Changing eating habits can be one of the most challenging parts of diabetes management or weight management. Don't beat up on yourself. Instead, let's look at five barriers to healthy eating, and talk about how they can be overcome and how you can stick to a healthier diet. Even if you don't have diabetes yourself but are caring for someone with diabetes, following the overall healthy eating guidelines will help with weight management and make you feel better, so don't give up – you can do it!
Barrier #1: Unrealistic Expectations
Face up to the truth: if 'not-so-healthy' eating patterns have been your habit all your lives, you are not suddenly going to be able to switch to a perfect healthy eating plan overnight. It's not going to happen!
Talk to your dietitian about setting some realistic short-term goals to get you started. For example, perhaps the first week, cut out the TV snack three nights a week and aim for increased portions of non-starchy vegetables at all meals. Eat these portions first, so you fill up on the good stuff.
The following week, set some additional small goals. Because they are small goals, they will be easier to reach. This will help you both feel good about yourselves, which in itself is motivating. Keep going until you reach the overall healthy eating targets.
Barrier #2: Healthy Eating Takes Too Much Effort
There's no denying that it can take longer to shop for and cook healthy meals than it does to pick up a double-cheese pizza for supper or an order of donuts for breakfast.
Talk to the dietitian about ways to short-cut healthy meal preparation. Make things easier by buying pre-washed salads and pre-cut veggies. Keep low-fat dips in the fridge so you always have healthy snacks on hand. Look for healthy frozen pre-cooked meals in the supermarket for instant zapping in the microwave.
Consider making one Sunday a month your "Big Cook Day", when you cook several batches of healthy foods for the freezer. Include things like tomato pasta sauce. If you cook up enough foods, a healthy meal will always be as close as your freezer.
Barrier #3: Temptations Are Too Hard to Resist
If you tell yourself that you will never again in your life enjoy your favourite chocolate cake or that yummy ice-cream flavour, you may well be doomed to failure.
You can help resist some treats by buying low-sugar or low-fat substitutions. For example, there are some good low-fat frozen desserts and frozen yoghurt brands. Low-fat dessert toppings are also available. However, for certain die-hard cravings, you may have to accept that 'controlled cheating' can be part of the eating plan.
They key word here is 'controlled'. Out-of-control binge snacking will always have negative effects on diabetes management. However, occasional pre-planned small snacks of ice-cream or cake each month may be acceptable and may help to make it easier to stick to the overall healthy eating plan. Ask the diabetes healthcare team for their specific recommendations.
Barrier #4: Healthy Eating is Boring
It can be – but it doesn't have to be! Splurge on new cookbooks around themes that fit with the diabetes meal plan. For example, many tasty Asian recipes contain lots of healthy vegetables and meat alternatives like lentils and chickpeas. Mediterranean recipes that focus on tomato based sauces, fish or vegetables can also be good options.
Seek out new restaurants that have healthy choices on the menu as your treat to yourself for sticking with a healthier eating plan.
Barrier #5: Discouraging Results
If you have previously tried diabetes management or weight management diets with poor results, it is easy to feel there's no point in sticking to a healthy eating plan. Try not to be discouraged. This is not a diet but a move to a new way of eating that is ultimately going to give you more energy and make you feel much better.
Look for long-term rather than short-term results. Even with a healthy eating plan, there may still be some short-term blood glucose swings. Focus instead on A1C results, which should soon start to reflect the positive changes you are making with improved readings.