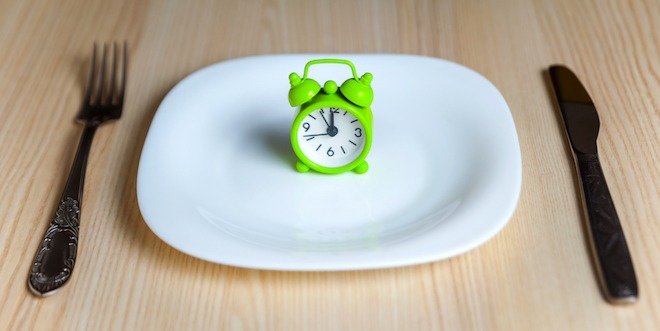 On occasion, diabetes and fasting come together in certain situations where people are required to fast. This may be in preparation for a test or for religious reasons. The potential medical harm from fasting can be lessened if people with diabetes understand the risks and receive education about fasting.
The consequences of fasting very much depend on the type of diabetes (type 1 or type 2), the medication they take to treat their diabetes, and how long a fast is required.
The main consequences of fasting that can be harmful are low blood sugars, high blood sugars and dehydration.
Fasting for medical tests
Blood tests sometimes require a fast; for example, a cholesterol test is usually a 12-hour fast. Many patients with type 1 diabetes on insulin tell me that they really find this tricky as they have a low sugar just prior to the test and so they have to treat the low and then can't do the test. 
Generally, depending on their usual morning glucose reading, I suggest that they lower their night-time basal [NPH, insulin detemir (Levemir®), insulin glargine (Lantus®)] insulin a few units so they are not as likely to go low overnight. Just doing this once or twice a year will not have any significant consequences and may prevent a serious low sugar on the drive to get the blood test!
The same is true for people with type 2 diabetes on night-time insulin or even on pills that can lower blood sugars below the normal range (less than 4 mmol/L). These pills would be gliclazide or glyburide. So, if morning sugars tend to be on the lower side, they can lower their dose a bit the night before. It is a good idea to check with your diabetes team to see how this should be done for fasting tests.
Preparation for tests like colonoscopy, although it is not strictly a fast, requires taking clear fluids for a day or two prior to the test. This can often lower blood sugars, so pills that lower blood sugar below normal range (see above) or insulin will have to be adjusted (lowered) and the person with diabetes should ask their team how to do this safely. It also helps if you let the person booking the test know that you have diabetes and that if you are at risk of a low sugar from the insulin or pills. Ask that the test be done first thing in the morning, so you don't have to be fasting for many hours prior to the test.
Fasting for religious reason
Fasting for the holy month of Ramadan for Muslims or for Yom Kippur for those of the Jewish faith is required for observant adults of these religions. Although both religions exempt those for whom this could affect their health, many still choose to fast. People for whom this would have the most consequences would be those with type 1 diabetes or pregnant women with diabetes. They should discuss fasting with their diabetes team.
Other people who should likely not fast are those who already have poorly controlled diabetes, acute illness or advanced diabetes complications. People intending to fast should be sure to wear their Medic Alert bracelet, carry low blood sugar treatment with them and check their blood sugars more often.
Hypoglycemia with fasting
Adults with type 2 on medication that lower sugars to below 4 mmol/L, such as insulin, glyburide, gliclazide or repaglinide, may need to lower the doses. Some studies suggest a reduction of night-time (basal) insulin in type 2 diabetes of about 20%. It is important to break the fast if blood sugars drop below 4mmo/L, or lower than is recommended by the diabetes team. The person with diabetes should check their sugars more often during the fast.
People on any combination of diet, metformin, pioglitazone (Actos®) /rosiglitazone (Avandia®) or sitagliptin (Januvia®)/ saxagliptin (Onglyza®)/ linagliptin (Tradjenta®)/ liraglutide (Victoza®) or acarbose (Glucobay®) are less likely to have a low blood sugar, than if on the other medications mentioned that lower sugars below normal range. In Ramadan, the morning meal before sunrise (suhoor) should be the time that the medications that lower blood sugars should be taken, and also before the evening meal after sunset (iftar).
Hyperglycemia/dehydration with fasting
This is more of a problem in very hot countries, but dehydration and consequently high blood sugars can be a consequence of fasting. If blood sugars go above 15 mmol/L, patients should break their fast and return to their normal routine. Sometimes the higher sugars are due to too much reduction of medication.
Every person with diabetes is different.  if you would like to fast, check with your diabetes team to see how you can do it safely and successfully.