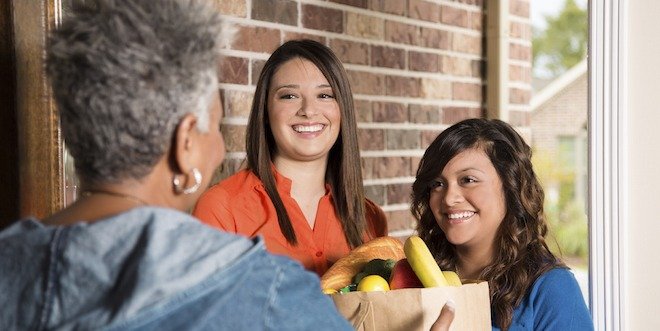 Healthy eating is important as we grow older, helping to avoid nutritional deficiencies and protect against age-related complications. Yet many seniors find it a struggle to stick with their diabetes diet.  We look at the reasons and provide some great tips to help seniors eat healthily.
Barriers to healthy eating
As we age, we may start to face challenges that get in the way of healthy eating.
These can include:
Chewing problems
Swallowing problems
Changing tastes
Lack of appetite
Forgetting to eat
The burden of shopping and cooking
Tips for chewing and swallowing problems
Look to your blender and knives for help. Mash, puree or finely chop foods to make meals easier to eat. Adding a liquid like gravy or a sauce can also soften food and help it slide down more easily.
Avoid hard-to-chew foods like steaks or chops. Instead, add more healthy fish plus meat substitutes like beans, lentils or tofu.
Changing tastes and/or appetite
Some medications can make foods taste different. Our taste buds may also change over the years.
Herbs and spices can help make foods tastier. Avoid adding too much salt, which can increase blood pressure.
Lack of appetite can also be an issue for many seniors. Recognize that older people often need 20 – 30% less calories as daily activity starts to decrease. The quality of the food consumed starts to become more important than the quantity. Tempt the appetite with more frequent, tasty small meals or snacks.
Ask for a referral to a dietitian to develop a meal plan to suit changing preferences. Vitamins or nutritional supplements may also be recommended.
Making an event out of mealtimes can also help seniors remember to eat and start looking forward to eating again. Create a special mealtime environment. Put flowers on the table and get out favourite crockery. Or buy a fancy new tray for eating in front of the TV.
Invite a friend or family member to join you for a potluck supper. Many communities also arrange seniors' lunches or collective kitchens where mealtimes become a chance to meet friends.
When shopping and/or cooking is a burden
Declining physical or cognitive ability can turn shopping and cooking into chores that seem too hard to handle.
Check if there are supermarkets in your area that will deliver. In some cases you can place an order online for home delivery. If this isn't an option, a shopping companion can take some of the burden away. See whether family members are available for a weekly shopping trip, or arrange a meet-up with a friend at the local supermarket. Some communities can also arrange for volunteers to accompany seniors on shopping trips.
Take the burden out of cooking by buying prepared salads and chopped vegetables, plus healthy cupboard staples like canned fish and beans. When cooking a meal, make extra portions to freeze and provide 'no preparation' meals ready for the micro-wave.
Meals-on-wheels can be a solution for housebound seniors.  Search here to see if there is a service in your area. Your local Community Care Access Centre (CCAC) will also have information on available local resources.