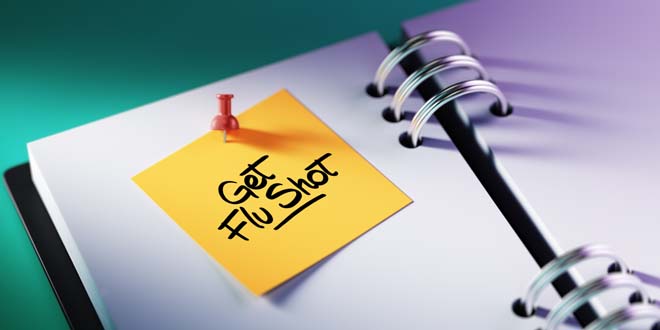 It's always a good idea to get a flu shot, to protect yourself and those who you come in contact with. This year, in the face of COVID-19, it's especially important that everyone – particularly people with diabetes – get the flu shot. Read on to learn about diabetes and the flu shot.
Why is the flu shot important for people with diabetes?
People with diabetes have many important reasons to protect themselves against the flu by getting a flu shot:
They have a higher risk of developing serious complications from the flu, such as pneumonia, bronchitis, sinus infections and ear infections.
An acute illness, such as the flu, makes it harder for people to control their blood sugar. Having the flu may cause blood sugar levels to rise; however, people don't feel like eating when they are sick and a reduced appetite can cause blood sugar levels to fall. That is why it is important to monitor your levels more frequently when you are ill.
Flu vaccination has been shown to reduce the risk of getting sick with the flu as well as reduce the risk of having a serious flu outcome, such as a stay in the hospital or even being admitted to the intensive care unit.
People with diabetes are hospitalized due to the flu far more than those who don't have the disease.
Who should get the flu shot?
Everyone who is 6 months of age or older should get the flu shot. It is your best defence against getting the flu.
People who benefit especially from the flu shot include:
Those with chronic health conditions, such as diabetes, heart, lung or kidney disease
Those who are 65 years of age or older, especially people who live in long-term care facilities
Healthcare workers, caregivers and childcare providers: the flu shot protects them, their families and the people they care for
Does the flu shot protect against COVID-19?
Getting a flu shot does not protect against COVID-19, but it will help prevent you from getting the flu. This is an important factor, since getting the flu could make you more vulnerable to other viruses or infections such as COVID-19.
Getting the flu vaccine will not increase your risk of illness from COVID-19.
Why is it especially important to get the flu shot this year?
The most important reason to get a flu shot this year – like any other year – is to protect yourself from getting the flu or transmitting it to your family members and friends.
Other important considerations during the COVID-19 pandemic include:
Reducing the strain on local and provincial healthcare systems. If you are protected against the flu, you will not require healthcare resources, which are severely burdened by COVID-19.
Reducing unnecessary testing. Because symptoms of the flu and COVID-19 are similar, getting the flu shot will reduce unnecessary testing for COVID-19.
Reducing the risk of getting sick with the flu and COVID-19 at the same time. Although there are promising options on the horizon, there is no vaccine available yet to protect people against COVID-19. However, getting a flu shot can help prevent the spread of the flu, which will decrease your chances of having both viruses at once.
Reducing the risk of 'super-spreaders' transmitting the flu. A super-spreader is a person who transmits an infection to a significantly greater number of other people than the average infected person. Children especially are considered to be super-spreaders, so it's important that they get a flu shot to protect themselves as well as classmates, teachers, caregivers, and vulnerable relatives such as older grandparents, pregnant family members and those with a chronic disease.
When will the flu shot be available?
The flu shot is generally available in early autumn, usually starting in late September or early October. It's a good idea to get your flu shot early in the flu season. This will give you the best protection against the flu. However, because flu viruses continue to circulate throughout the winter, you can still get a flu shot until January or February.
Where can I get the flu shot this year?
The flu shot is available at many locations, including:
Your local pharmacy
Your family physician's office
A walk-in clinic
How can I feel safe getting my flu shot during COVID-19?
Wherever you choose to get your flu shot, the healthcare staff administering it will be wearing personal protective equipment, likely a mask and gown, and perhaps a face shield. They are doing this to protect themselves and you from COVID-19.
You can feel safe by protecting yourself as you normally would when you are outside of your home. This includes:
Staying at least 2 metres from other people
Wearing a face mask, and ensuring that it covers your nose and mouth
Avoiding crowded public spaces when possible
Washing your hands and face thoroughly when you return home