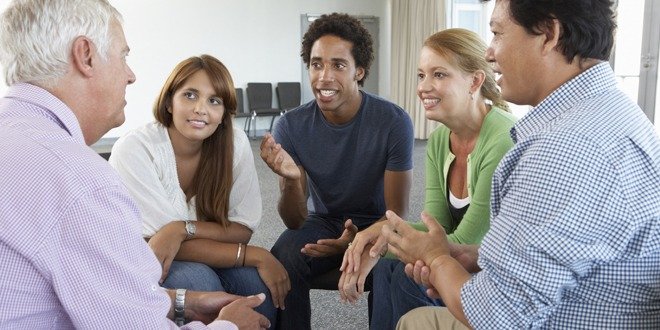 Support groups bring together a number of individuals who are facing similar challenges. These challenges may range from specific personal health issues like diabetes, to relationship or emotional health issues, or the more comprehensive range of challenges faced by people like caregivers.  This article will help to explain why a diabetes support group may be beneficial to people living with diabetes or their caregivers.
Members of a support group get to connect with other people who are in a similar situation. This enables sharing of experiences, practical tips and information. Support groups also help to reinforce that individuals are not alone in their situation. Group members typically report receiving a great deal of moral support and mutual encouragement from other group participants, who are likely to be more able to relate to their experiences than even their family members or friends.
Different kinds of groups
There are a variety of different kinds of support groups to meet different needs and preferences. Some people prefer to meet support group members in person. Others are more comfortable getting to know members by telephone or online. For those living in rural communities, in-person meetings may simply not be a practical option.
Online support groups offer an increasingly convenient way for people to connect with others in a similar situation. Here you are able to pose questions, share experiences or simply let off steam with others who understand. And it's all as easy as a click or a tap away.
Support group benefits
Benefits of joining a support group can include:
Reduced anxiety and depression from the realization that you are not alone in your situation
Sharing your frustration with others who can relate to your feelings can help to lessen stress and provide an outlet for emotional expression
Shared tips and ideas can improve coping skills and provide practical solutions
Ongoing information about available resources and/or treatment options
Sharing notes about different options can help you evaluate potential new directions
How to find a support group
If you are seeking a support group for yourself, your family member or friend with diabetes, talk to the diabetes healthcare team. Many communities have support groups led by diabetes educators; other groups are started by individuals who are living with the condition. Your diabetes team should be able to provide information on relevant groups or to refer you to helpful resources.