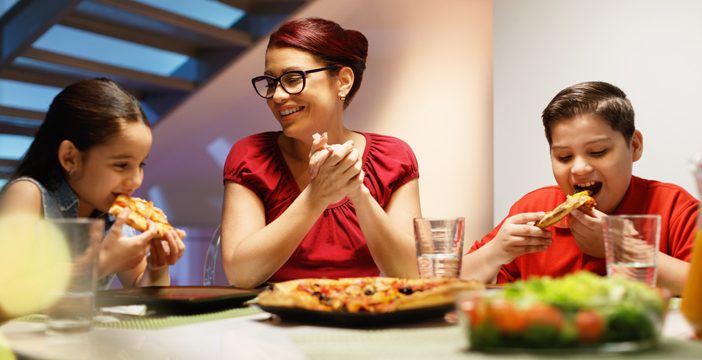 Who doesn't love a delicious pizza once in a while. But with diabetes, the kind of pizza you eat can make all the difference in preventing a blood sugar spike and subsequent crash that will leave you regretting your meal choice. Below you'll find some simple ways to make your pizza healthier, so you can enjoy one more often.
What makes a healthy pizza?
Pizza can be a well-rounded, healthy meal option provided you choose the right ingredients. Here are four components of the pizza to consider in making those choices:
The crust: Opt for a thin-crust pizza to get more flavour punch from healthy toppings and less carb-heavy bread. Eating a thin crust will also help you reduce calories and sodium. When possible, choose a multi-grain or veggie option for even more fibre. In fact, by using a whole-grain crust instead of the standard white-flour variety, you will double your fibre intake. Now there are also a whole slew of veggie pizza crust options, such as cauliflower, broccoli and beet.
The sauce: If you're using a good-quality, natural tomato sauce, this is one part of the pizza you don't have to skimp on. Tomato sauce is rich in vitamins A and C, and has antioxidant-rich lycopene too. On the other hand, adding cream/white sauces to your pizza will bump up calories, saturated fat and salt.
Pesto is another good option for pizza sauce as it is made from heart-healthy nuts and oils. (But remember that a little goes a long way so watch the quantity.) You can skip the sauce altogether by adding a base of good-quality olive oil and garlic. A pizza of fresh figs, with caramelized onions and ricotta is another good 'no sauce' option.
The cheese: Yes, cheese is often a key ingredient in making pizza tasty but be mindful of the kind and quantity you choose. Skip the double cheese and stuffed crust options and opt for partly skimmed mozzarella or ricotta. Other good cheese options include feta and parmesan, as well as swiss, which has less fat and sodium than most other cheeses.
The toppings: Consider your pizza crust as the perfect canvas for a melange of colourful vegetables, which are rich in minerals, vitamins and fibre. There are the more traditional toppings such as green peppers, mushrooms and onions, or a whole slew of interesting alternatives such as zucchini, artichokes, roasted squash, kale, spinach and arugula. Don't leave out the herbs either. Basil, parsley and chili flakes can add a delicious flavour boost.
When choosing proteins, avoid fatty, processed meats such as salami or pepperoni and go for lean options like chicken breast, ground turkey and shrimp.
Say no to the dipping sauces offered through many pizza retailers these days. They'll just add fat and calories to your meal with little or no nutritional benefit.
Find more on diabetes and portion control here.
The benefits of home-made pizza
When you make pizza at home, you have full control over how it's made, and the quality of ingredients used. It's also a great way to use up all those excess vegetables in the fridge. When possible, make your own sauce to avoid extra sodium and preservatives. Try using a protein-packed alternative to classic pizza dough by making a crust out of quinoa.
If your time is limited, opt for pre-made, healthy crust options, as well as precut vegetables and good-quality tomato sauce or pesto. In a pinch, whole wheat tortillas or pitas also work as a pizza crust.
For an added health boost, pair your home-made pizza with a side salad and a simple dressing of olive oil, lemon and a pinch of salt. Or make a plate of raw veggies and hummus. This will help you avoid eating too many pizza slices as well. Here's another flavourful side salad to accompany your pizza.
For more delicious inspirations try this pizza using a cauliflower crust, and another for pizza bites with quinoa.
Final pizza thoughts
Remember that when it comes to pizza, not all slices are created equal. Being mindful of your choices of crust, toppings and portion size will mean you can indulge in pizza without guilt, even with diabetes.