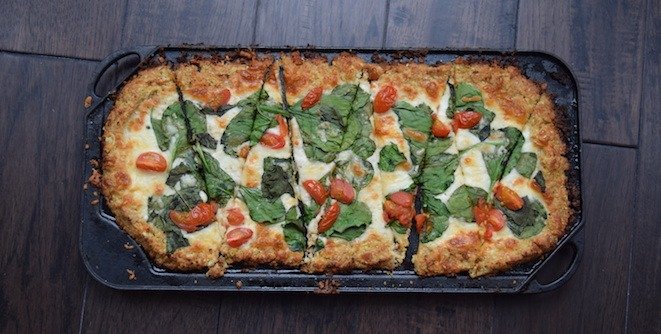 INGREDIENTS
For the Crust
1 small cauliflower, florets only, 4 finely riced level cups*
½ cup/60gm spelt flour
½ cup/40gm almond meal/almond flour
1 egg, beaten
½ tsp garlic powder
1/2 tsp kosher salt
½ cup/60-65gm finely grated mozzarella cheese
2 tbsp olive oil
My Toppings
About 1/2 cup shredded smoked mozzarella
About 12 cherry tomatoes, quartered
Big handful of spinach
10 basil leaves torn
DIRECTIONS
Preheat oven to 500˚F and place the oven rack on the second from the lowest position. Heat a cast iron flat top sheet or a cookie sheet (lined with foil if you wish) in the oven as it preheats.
Measure 4 cups of riced cauliflower* in a microwave safe bowl. Microwave on high for 4 minutes. Stopping halfway to toss. When cool enough to handle, squeeze the liquid out of the cauliflower using paper towels. Allow the cauliflower to cool a little before adding the egg and cheese.
Add the two flours, salt, garlic powder and stir well. Add the egg and cheese and work the dough with your hands so that it is all evenly distributed.
Carefully remove the sheet from the oven, place it down on a heatproof surface. Brush the sheet with the olive oil. Spread the cauliflower mixture in a large oval, making a lip, like a "pizza crust edge." I will spread it as much as I can with my hands (it is hot), then sometimes put a piece of parchment on top of the flattened cauliflower and using a rolling pin, roll over the parchment to little to make it even thinner, then make a nice raised edge.
Bake the crust without the toppings for 10 min, remove from the oven and sprinkle the crust (starting with the cheese) with all the toppings. Bake for another 8-10 minutes.
Remove from the oven, let cool for a few min, cut and enjoy!
Makes 8 large pieces
*to "rice" the cauliflower, place the florets in the food processor fitted with the steel blade. Pulse the cauliflower many times until it resembles rice.