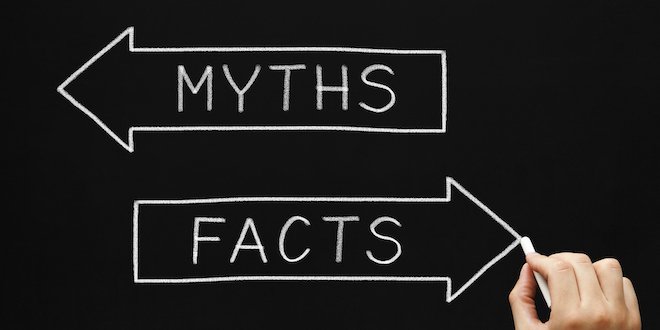 There is probably no other disease than diabetes where people are happy to give other people unsolicited advice and information. This is likely because it is such a common illness. Starting insulin, in particular, seems to carry with it many myths that you may have heard from some of these well-meaning folks. Read below to learn the truth about starting insulin.
Myth 1: Insulin is a sign of failure
Fact: At the time that type 2 diabetes is diagnosed, the pancreas is already producing only 50% of the insulin that someone without diabetes produces. This is followed by a continued progressive decline in insulin production. If they have type 2 diabetes long enough, the majority of people will require insulin to manage their blood sugars. So, it is not a sign of failure on your part that you require insulin, but rather a sign that your pancreas is failing!
That said, the amount of insulin required for any given individual is based not only on how much insulin they produce, but also on how much 'resistance' they have to the action of insulin. This can be greater, based on such factors as genetics or having another disease, such as polycystic ovarian syndrome (PCOS). Even carrying excess weight requires more insulin. So, if you are significantly overweight, you can prolong the time to when insulin is required by losing weight. However, you may still eventually require insulin, even if you get to a normal body weight.
Myth 2: Insulin injections hurt
Fact: With newer technologies, such as prefilled insulin pens, and smaller, shorter, coated, one-time-use needles, insulin injections are virtually pain-free. Most people living with type 2 diabetes are surprised when they start insulin when they see how easy and painless it is to inject. If the injections are compared to the 'poke' from glucose monitoring, most people say that it is much less uncomfortable.
Myth 3: Insulin is difficult to use
Fact: There is no doubt that understanding the ins and outs of insulin use will make starting this medication go much more smoothly. It is important to understand the basics, such as the need to store pens for future use (not the one you are using now) in the fridge. It is also important to know that insulin lowers blood sugar; therefore, it is essential that you understand the prescribed dose and how to adjust it, if required. Beyond some basics, though, the actual administration of insulin is simple. The newer prefilled pens with an easy-to-read dose window make it straightforward.
Myth 4: Insulin can be injected anywhere
Fact: Insulin works by being distributed in the fat layer of the skin. The best place to find a consistent layer of fat is the abdomen. Other places include the outer thighs, buttocks and upper arms. It is important to change sites and move around within a site so that you don't build up abnormal fat tissue.
Myth 5: Insulin always causes weight gain
Fact: The body can become dehydrated if blood sugars are consistently high (especially over 12 mmol/L). So, any medication that reduces glucose will appear to add weight as the body rehydrates. This is something people may notice when they first start insulin.
In studies, if the insulin started is basal (usually this is once a day, long-lasting insulin), there is very little weight gain. This is one reason that this type is commonly started first for type 2 diabetes. There is a greater chance of weight gain if meal-time insulin is started. However, like people who do not have diabetes, this is more related to the calories consumed along with the insulin and underscores the importance of "matching" the calories or carbohydrates consumed for any given meal with the bolus or mealtime insulin. Usually, when meal-time insulin (or pre-mixed insulin) is started, it is an important time to see a dietitian in order to learn about carbohydrates and get a meal plan or 'carb budget,' or learn to count carbohydrates to reduce chances of weight gain. Sometime other medications are combined with insulin to reduce the weight gain, such as GLP-1 receptor agonists or SGLT2 inhibitors.
Myth 6: Insulin will cause dangerously low blood sugar
Fact: Insulin does lower blood sugar and a hypoglycemic (low blood sugar) reaction can happen. This is usually less likely for people with type 2 diabetes than for those with type 1, and it is less common with basal insulin than with bolus insulin. Anyone on insulin should know how to recognize and treat a low blood sugar. Normally there are warning signs and you can take action to prevent the low from becoming dangerous. 
Myth 7: Insulin causes blindness, kidney failure or death
Fact: This is the biggest myth! High blood sugar causes complications of diabetes, not the treatment. Sometimes however, when people start on insulin, they recall a grandmother or uncle who may have started insulin and then went blind. However, it is usually that they already had complications beforehand and likely ought to have started insulin sooner to prevent this from happening!
Myth 8: Insulin use requires multiple daily injections
Fact: People with type 2 diabetes usually start with basal or once-a-day insulin. This combined with other oral or injectable medications (for example, GLP-1 receptor agonists) may work very well for some time. At some point, meal-time insulin may be added to one meal and then the other meals.
Myth 9: Insulin is forever
Fact: Insulin is just one method of treating type 2 diabetes. It is sometimes less expensive than other medications. Some people choose insulin for this reason and then later are able to afford other options and the insulin may be discontinued. Also, newer agents are being developed and in some cases these can be used along with or instead of insulin.
Myth 10: Insulin is only used as a last resort
Fact: Insulin is a good option any time along the pathway of treatment for type 2 diabetes.
Myth 11: Taking insulin now makes me a person with type 1 diabetes
Fact: No, you have type 2 diabetes but you take insulin. This is not the same.