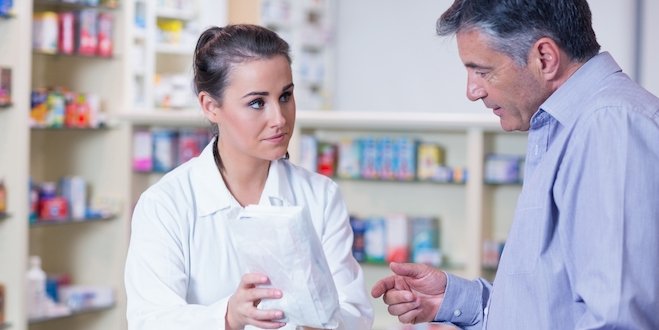 Has your healthcare team talked to you about adding insulin to your treatment regimen? Many people have different thoughts about starting insulin. Sometimes people feel scared, anxious or guilty. However, as you learn more, you will realize that insulin is an effective method to get your blood glucose levels to target. Also, the newer insulins and delivery devices on the market minimize the risks that were associated with insulin use in the past.
Type 2 diabetes is a disease that changes over time; eventually, many people require insulin injections to best manage their blood sugar levels. In addition, research shows that early intervention to lower blood glucose levels reduces the risk of later complications of the disease.
Most people find that once they start insulin, it wasn't nearly as painful or complicated as they thought it would be. The ultimate goal for any diabetes treatment is to achieve optimal glycemic control without causing hypoglycemia or weight gain, and to minimize the impact on lifestyle.
Will I feel different after starting insulin?
When blood glucose is well controlled, you may have more energy, sleep better and have improved mood levels. You can continue to do all of your usual activities and live your normal life. You may need to check your blood glucose more often, but this will keep you safe, healthy and informed. You may be surprised that starting insulin is a much smaller burden than you initially thought it would be.
How will this affect my daily routine?
Individuals with type 2 diabetes usually begin with one daily injection, at bedtime, which will have a minimal impact on their daily routines. In order to ensure that your insulin is working correctly, you may be asked to test your blood sugar. This is often done first thing in the morning.
What things should I watch out for?
Some people are concerned that they may feel pain or discomfort when injecting insulin; however, most people find that it actually doesn't hurt. Today, insulin needles are so small and thin that you barely feel them. Your healthcare team may also be able to prescribe an insulin pen device, which makes injection even easier.
With intensive glycemic control, the risk of hypoglycemia is increased. However, this risk is lower in people with type 2 diabetes than in those with type 1 diabetes. Mild hypoglycemia may still occur in people with type 2 diabetes, but your healthcare team will teach you how to detect, prevent and treat it.
Finally, weight gain may occur at the time of insulin initiation. This is not because insulin itself causes weight gain. When blood sugar levels are elevated, there is not enough insulin in the body to properly turn glucose into usable energy. Without insulin, the glucose simply remains in the bloodstream and then gets excreted through the urine. This loss of calories translates into unhealthy weight loss. Insulin therapy helps move the glucose into the cells and turns those calories into energy for your body. All of those extra calories will then be absorbed, which can translate to weight gain. Learn about ways to avoid these extra pounds here.
Are there different options or types of insulin? If so, which one I should start?
There are a variety of insulins available on the market. They are classified according to duration of action, time of onset and peak action. There are two main types of insulin, which are designed to work in different ways:
Bolus insulin helps with meal-time blood sugars
Basal insulin (intermediate, long-acting or ultra-long-acting) helps with fasting blood sugars
Multiple formulations of premixed insulins are available and are convenient to use as well.
For type 2 diabetes, adding insulin to non-insulin medications may result in better blood glucose control with a smaller dose of insulin. It may also induce less weight gain and less hypoglycemia than insulin used alone (i.e. with no other medications). A common way to start insulin is to add a once-daily dose of a long-acting insulin at bedtime (basal insulin) to the treatment regimen. The long-acting insulins cause less hypoglycemia than the intermediate-acting ones so, if it is within your budget, it is advisable to start with one of these. Basal regimens do not control post-meal hyperglycemia very well, so another option is to take a long-acting basal insulin with a rapid acting meal-time insulin before a meal.
When insulin is used in type 2 diabetes, the regimen should be tailored to the individual to achieve good blood glucose control while trying to avoid hypoglycemia. The type of insulin, number of injections (1 to 4 per day) and timing of injections may vary depending on each individual situation.
Adding insulin to your treatment regimen should not be seen as a setback. People with type 2 diabetes may require insulin in addition to their meal plan, exercise and glucose-lowering medications to achieve targeted blood sugar levels. Learning more about how to use insulin safely will lead to a number of health benefits, while avoiding unwanted side effects. Talk to your healthcare team to see if insulin is right for you.