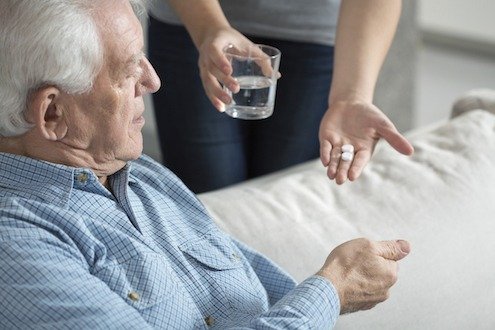 Taking medications on time and in the right order can be a challenge for all people with diabetes, and particularly for seniors. Many have a number of medical conditions, requiring multiple medications. Additionally, seniors often face medication barriers that may not be immediately apparent to their younger family members or friends. For example, challenges due to vision loss or joint or muscle soreness.
Let's look at some common barriers to medication compliance, together with practical solutions.
Confusion
Does the person you are supporting understand what their medications are and why they are important? Arrange a consultation with the pharmacist. Accompany your family member or friend, and bring all medications that are being taken, including over-the-counter medications and vitamins.
Ask the pharmacist to explain what all the medications are for, and how they should be taken. If there are multiple medications, ask for a schedule that clearly shows the right order. The pharmacist may also be able to prepare sealed blister packs, which conveniently package multiple medications taken at a single time all together.
If blister packs aren't possible, talk to the pharmacist about pill boxes, which allow you to organize each day's medications in different compartments according to hours, meals or days etc.
Write down all the medications that are being taken or ask the pharmacist for a list, and keep copies of it in a prominent place in the home. You should also keep a copy yourself.
Forgetfulness
Many seniors become a little absent-minded and simply forget about taking their medications at the right time. It can be helpful to associate taking medications with other daily routines. For example, suggest that the senior keeps their medications by their toothbrush. If medications are to be taken with food, keep them in the cutlery drawer – provided there are no children in the house.
You can also set an alarm clock or a mobile device as a reminder of medication time.
It's important to check with the pharmacist about what should be done if a medication is accidentally missed. Be sure the person you support is clear about what to do if this happens.
Vision loss
If a senior finds it hard to read the medication label, ask the pharmacist to prepare the labels using larger print. Some pharmacists are even able to prepare braille labels for the blind.
Difficulty opening
Many medications are automatically packaged in child-proof containers. These can pose real challenges for people with weak or sore joints or muscles. Talk to the pharmacist about alternative packaging options.
Difficulty swallowing
Does your family member or friend resist taking medications because they find them hard to swallow? It does happen sometimes. Again, talk to the pharmacist. There may be alternative options that would be easier to take.
Side effects
If a senior is consistently resistant to their medication schedule, consider whether they may be experiencing unwanted side effects. Sit down and talk together to determine if this is the case. If so, consult with the pharmacist or doctor. There are likely to be other options that may be easier to live with.
Language barrier
With so many ethnic backgrounds in Canada, this can be a real problem for some seniors with diabetes. If they can't understand the instructions on the label or the instructions that the pharmacist gives, it can be very difficult for them to follow medication recommendations. Talk to the pharmacist about the situation. It is an increasingly common challenge, and your pharmacist is likely to be able to advise you.
As you can start to see from this article, your pharmacist can be of great value for people living with diabetes, and is an important member of the diabetes team. Aim to use only one pharmacist to build a strong relationship and to keep a record of all your medications in one place.