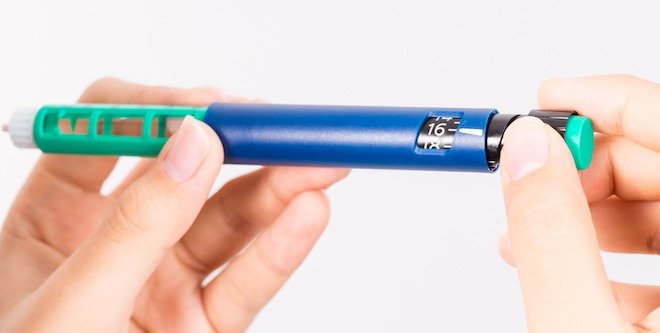 Insulin is the most powerful medication that we have to treat diabetes. Insulin that is injected into the body is a replacement or supplement to your body's natural insulin that can help treat both types of diabetes. When someone has type 1 diabetes, their body cannot make insulin and they must use insulin injections to control their blood glucose levels. For this patient population, insulin is a lifesaving medication. By contrast, many people with type 2 diabetes have some insulin in their body but either there is not enough or it is not working efficiently. Type 2 diabetes can often be managed with lifestyle changes and oral medications. However, if these treatments don't work, insulin may also be needed to help control blood glucose levels.
There are a variety of insulin products available on the market. They are classified according to their duration of action and are further differentiated by their time of onset and peak actions. Regardless of whether insulin is delivered by injection or pump therapy, it is always a priority to avoid hypoglycemia. Achieving optimal glycemic targets while avoiding hypoglycemia can be challenging and requires individualized insulin regimens.
There are two main type of insulin, which are designed to work in different ways: bolus insulin, which helps with mealtime blood sugars; and basal insulin, which helps with fasting blood sugars.
Mealtime (bolus) insulin
The bolus or mealtime insulin originated with short-acting insulin (Humulin-R or Novolin ge Toronto insulin). This type of insulin begins to act about 30 minutes after injection, peaks after 2 to 3 hours, and lasts for 6 to 8 hours. These insulins are rarely used today as they need to be taken 30 to 45 minutes prior to eating, which means you need to accurately anticipate when and what you will be eating in order for it to work properly. When the insulin peak of action is not matched to the timing of the meal or the correct amount of carbohydrates, there is a risk of hypoglycemia.
One of the advances in insulin therapy was the development of insulin analogues (lispro, aspart and glulisine). These insulin analogues are rapid-acting mealtime insulin. They are a modified form of human insulin that has been altered in such a way that the molecules do not clump together the way regular insulin molecules do. This allows them to be absorbed much more quickly into the bloodstream and begin to work, peak, and break down more quickly than regular insulin. It usually begins working approximately 15 minutes after injection and its effects can last between 2 to 4 hours. To work to its full potential, this class of insulin should be injected 15 to 20 minutes before the start of the meal. If not taken properly, there is a risk of irregular blood sugar levels or even a hypoglycemia reaction. Recently, a new ultra-rapid-acting insulin came to market in Canada (a faster acting version of aspart). This insulin is absorbed even more quickly and therefore matches more closely the natural physiological insulin response in a person without diabetes.
The closer the onset of action of injectable insulin is to the body's natural insulin, the less likely it is to cause hypoglycemic events, especially if it is used at the correct time in relation to the consumption of carbohydrates.
Basal insulin (also known as background insulin)
Basal insulins fall into two sub-categories, again based on their duration of action; they are either intermediate-acting (examples include Humulin®-N or NPH) or long-acting (examples include Lantus® and Levemir®).
Intermediate-acting insulin starts working 2 to 4 hours after injection, peaks approximately 4 to 12 hours later and continues to work for 12 to 18 hours. It is usually taken twice a day. Since there is a peak of action, it increases the risk of hypoglycemia if not matched appropriately to the consumption of carbohydrates.
Long-acting insulin starts to work several hours after injection and works for approximately 24 hours. There is no peak, so there is a lower risk of hypoglycemia. For type 1 diabetes, long-acting insulin must be used in conjunction with a mealtime insulin. When starting insulin in type 2 diabetes, healthcare professionals usually start patients with this type of insulin, injected once daily.
New generation insulins
Recently, a new generation of basal insulin has come to market; ultra-long-acting and concentrated forms. Insulin degludec is an example of an ultra-long-acting basal insulin that has a duration of action of longer than 24 hours and lower day-to-day variability than the regular long-acting insulin. Because of this, it has been noted that the ultra-long version has resulted in less frequent symptomatic hypoglycemia.
Finally, a newer concentrated form of basal insulin has come to market. This form offers lower-volume therapy, predictable and durable glycemic control, and lower risk of hypoglycemia compared with the regular long-acting insulins of the same origin. It is likely that this new version will become the standard of basal therapy for any individual with diabetes who requires insulin replacement therapy.
Overall, too much insulin is definitely a cause of low blood glucose. One reason newer insulins are preferred over regular insulin and NPH is that they're less likely to cause blood sugar lows, particularly overnight. Insulin pumps may also reduce the risk of low blood glucose. Accidentally injecting the wrong insulin type, too much insulin, or injecting directly into the muscle (instead of the just under the skin), can also cause low blood glucose.
With adequate self-management education, appropriate glycemic targets, self-monitoring of blood glucose and support, intensive therapy may result in fewer episodes of hypoglycemia, particularly with use of the newer insulin formulations.