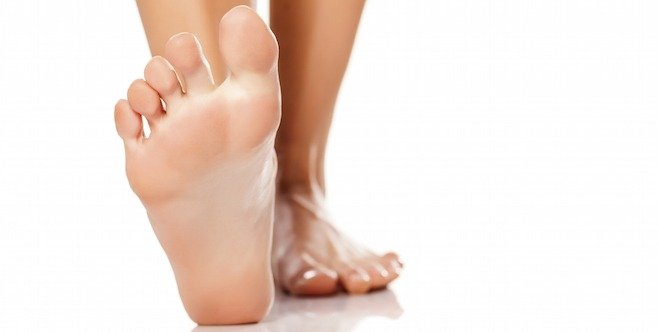 Proper foot care is important for everybody, but especially for people with diabetes. That's because your feet can suffer if your diabetes is not well-controlled.
Foot complications in people with diabetes include the following:
Calluses are areas of skin that become thick and hard from rubbing or pressure. Calluses occur more often and build up faster on the feet of people with diabetes.
Foot ulcers are breaks in the skin or sores that occur most often on the ball of the foot or on the bottom of the big toe.
Poor circulation (blood flow) can make your feet less able to fight infection and to heal any wounds that may occur
Neuropathy is a long-term complication of diabetes, and is caused by continually high blood sugar levels. If your blood sugars are constantly high, this causes damage to your peripheral nerves, which are the nerves that extend to your legs and feet. Other risk factors for neuropathy include excess body weight, smoking and high blood pressure levels.
Symptoms of neuropathy in your legs and feet include:
Sharp, shooting pains
A burning or tingling feeling
A feeling of being pricked with pins
Throbbing
Numbness (not able to feel pain, heat, or cold)
How can I avoid foot complications?
Here are some tips to ensure that you are living healthily with diabetes, and to avoid any foot complications:
Practice proper foot care. Check your feet daily.
One of the most important things you can do to prevent neuropathy – and other foot complications – is to ensure that your blood sugar levels are at target. Diabetes Canada clinical practice guidelines recommend that people should have a before-meal blood glucose level of 4.0 mmol/L to 7.0 mmol/L and a blood glucose level of between 5.0 mmol/L and 8.0 mmol/L two hours after eating. For more information about blood sugar levels, click here.
Take all your diabetes medications, as prescribed by your healthcare team.
Maintaining a healthy body weight is also very important. Eating a healthy diet helps prevent diabetes complications, including foot problems and nerve damage. For more information about healthy eating, click here.
Physical activity also helps you to live healthily with diabetes and prevent complications. For more information about physical activity, click here.
One of the biggest threats to the health of your feet is smoking. Smoking affects small blood vessels. It can cause decreased blood flow to the feet and make wounds heal slowly. In fact, a lot of people with diabetes who need amputations are smokers. If you are smoker, try to quit. For more information about quitting smoking, click here.
A healthy lifestyle can help you ensure that you do not develop foot complications. Check your feet every day, and see your healthcare team right away if you suspect or notice any problems with your feet.