Are you confused by all of the terms for diabetes? You have likely heard of type 1 and type 2 diabetes, but the term 'diabetes mellitus' may be something you hear your diabetes healthcare team use. So what exactly is that?
What is diabetes mellitus?
Insulin is a hormone that controls the amount of glucose in the blood. Diabetes mellitus is a chronic disease that can happen for two reasons: 1) your body can't produce insulin; or 2) your body can't use the insulin that it produces.
Are there different types of diabetes mellitus?
Not all types of diabetes are alike:
Type 1 diabetes occurs when the body can no longer produces any insulin. It is an autoimmune disease that is most often diagnosed in children and teenagers.
Type 2 diabetes occurs when the body cannot make enough insulin, or cannot effectively use the insulin that the body releases. It is most often diagnosed in adults.
Gestational diabetes develops during pregnancy. It happens when a woman's body cannot produce enough insulin to handle the effects of a growing baby, and this results in increased blood sugar levels. Changes in hormone levels also occur.
Read more about the differences between type 1 diabetes and type 2 diabetes
What are the symptoms of diabetes mellitus?
The symptoms of all types of diabetes are often very similar, and may include the following:
Feeling very thirsty
Drinking a lot of fluids
Urinating more frequently
Feeling very hungry
Tiredness or fatigue
Nausea and vomiting
Blurred vision
Having cuts or bruises that are slow to heal
However, some symptoms are specific to type 1 or type 2 diabetes:
Type 1 diabetes: losing weight, even though you are eating more; in children, wetting the bed
Type 2 diabetes: frequent infections, dry skin, numbness and tingling in the hands or feet, and trouble getting or maintaining an erection
Read about the top 10 diabetes symptoms
How is diabetes mellitus diagnosed?
Four different tests are commonly used to diagnose diabetes:
Fasting blood glucose level: This is a simple blood test. Your healthcare team will draw a sample of your blood and send it to a laboratory for analysis.
A1C: This test also involves analysis of a blood sample in a laboratory. It provides information about your average blood sugar levels over the past three months.
Oral glucose tolerance test (OGTT): This test measures your body's ability to use glucose (the body's main source of energy). The OGTT test is usually done in the morning, with a blood sample taken after you have fasted overnight. This fasting blood glucose value provides a basis for comparing other glucose values. After your blood is drawn, you will be asked to drink a liquid containing 75 grams of glucose. After two hours have passed, your healthcare team will draw your blood once again, and both blood glucose results will be analyzed in a laboratory.
Random blood glucose test: If your healthcare team suspects you may be at high risk for diabetes, they may draw your blood for laboratory analysis during your clinical visit, regardless of whether you have been fasting or have eaten recently.
Read about how diabetes is diagnosed
How is diabetes mellitus treated?
People with type 1 diabetes are always treated with insulin. Because their bodies can't produce insulin anymore, they need to get the right amount in order to keep their blood sugar levels in a healthy range.
If type 2 diabetes is diagnosed early in the course of the disease, it may be treated with lifestyle adjustments alone. Lifestyle changes include maintaining a healthy diet, exercising regularly and losing weight (if needed).
However, people who are recently diagnosed with type 2 diabetes may have very high blood sugar levels that can only be managed with medication, in addition to these lifestyle changes. Diabetes is also a progressive disease, so while you may be started on one medication, your regimen may change over time. This means that you might need more or different medications (including insulin) to help control your blood sugar levels.
There are a wide range of diabetes medications available to help people with type 2 diabetes control their blood glucose levels. Some of these are in pill form and taken by mouth, while others are injected subcutaneously (under the skin) with a needle. Your healthcare team will help you to determine which medication regimen is best for you over the course of the disease.
Women who are diagnosed with gestational diabetes during pregnancy are usually prescribed insulin (along with lifestyle changes such as diet and exercise) if their blood sugar levels are consistently high. While gestational diabetes generally resolves after a woman gives birth, it's important to be aware that she (and her child) may be at an increased risk for type 2 diabetes in the future.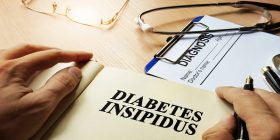 ADH is a hormone that controls how much water your kidneys make into urine to prevent you from getting dehydrated. People who don't have enough ADH in their bodies can develop a condition called diabetes insipidus (DI) or water diabetes. Here's a look at what causes diabetes insipidus and what you can do to get it under control.