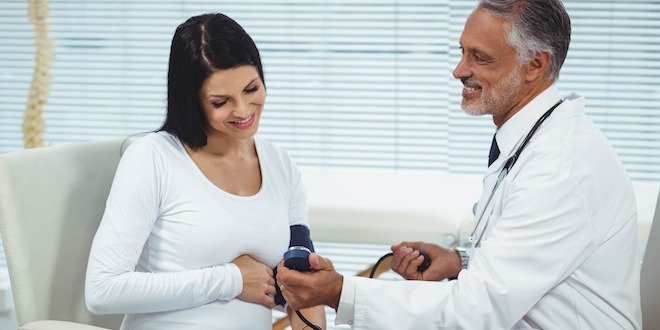 Gestational diabetes is a temporary form of diabetes that occurs during pregnancy. It is estimated that 3% to 20% of women across Canada will develop gestational diabetes every year. So what are the risks of having gestational diabetes?
Gestational diabetes can cause risks to both a mother and her baby.
Risks for mothers
Gestational diabetes increases a woman's risk of having high blood pressure during pregnancy. It also increases the risk of a condition called preeclampsia; this is a serious complication of pregnancy that causes high blood pressure and other symptoms that can threaten the lives of both the mother and her baby.
Women who have had gestational diabetes during a pregnancy are more likely to get it again during a future pregnancy. They are also at higher risk of developing type 2 diabetes.
Women with gestational diabetes are more likely to need to have labour induced early, or have a Caesarean section.
Risks for babies
Extra glucose in the mother's bloodstream crosses the placenta, which triggers the baby's pancreas to make extra insulin. This can cause the baby to grow larger than normal (this is called macrosomia), which could result in a more painful birth and possible stress for the baby.
A baby that is born early to a woman with gestational diabetes can experience respiratory distress syndrome, a condition that makes breathing difficult. Babies with this syndrome may need help breathing until their lungs mature and become stronger.
Babies of mothers with gestational diabetes often develop hypoglycemia (low blood sugar) right after birth because their own insulin production is so high. In rare cases, severe episodes of hypoglycemia can cause the baby to have seizures.
Babies of mothers who have had gestational diabetes are at higher risk of developing obesity and type 2 diabetes later in life.
Reducing the risk of gestational diabetes
There's only so much a woman can do to reduce her risk of gestational diabetes: unfortunately, some women develop it regardless of how healthy their lifestyle is. However, there are some things women can do, while planning their pregnancy, to reduce the risk – and avoid the complications of – gestational diabetes. These include:
Maintaining a healthy weight, or losing excess weight (if needed) before becoming pregnant
Following a healthy diet
Getting regular physical activity
With a little planning, and paying attention to diet, lifestyle and nutritional needs, women can reduce their risk for gestational diabetes and lay the groundwork for a healthy, risk-free pregnancy.