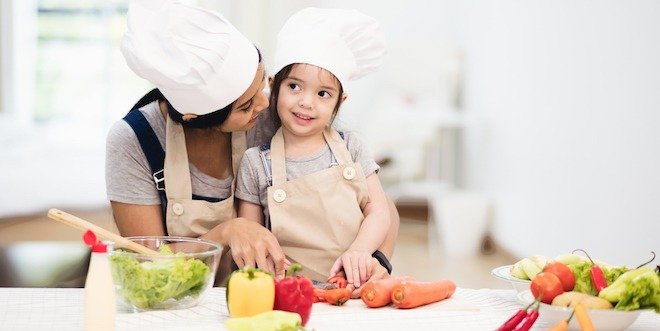 Not that long ago, it was believed that children were only affected by type 1 diabetes. The reality, however, is that there are now many more children with type 2 diabetes as well. The good news is that preventing diabetes in children can go a long way in keeping them healthy and free of this chronic disease. Here are some ways you can be proactive in helping prevent diabetes in children.
Can all types of diabetes be prevented?
Type 1 diabetes (in which the immune system attacks the pancreas and destroys cells that make insulin) cannot be prevented in children because researchers are still figuring out what causes it. Even though there are blood tests to determine early signs of the disease, there are still no concrete ways to stop type 1 diabetes from progressing. Find more information on type 1 diabetes here.
The prevention of type 2 diabetes in children (in which the pancreas can still make insulin but the body doesn't respond to it properly) is a lot more positive. While not all risk factors for type 2 diabetes can be avoided in children, many can. In fact, studies have proven that changes in lifestyle can do wonders in delaying or even offsetting type 2 diabetes in kids.
Who's at risk for type 2 diabetes?
The single greatest cause of type 2 diabetes in children is extra weight. In fact, an overweight or obese child is twice as likely to get diabetes compared to children who are within a normal weight range for their age and height. As with adults, type 2 diabetes is more likely to affect children with excess weight around their stomachs.
Having one or more family members with the disease can increase a child's risk for type 2 diabetes, as can being part of certain ethnic groups (e.g., Aboriginal, South Asian, Hispanic or African).
How to prevent diabetes in children?
Type 2 diabetes in children can be prevented by following many of the same steps used to treat the disease.
Get active:
Make sure your child gets some physical activity every single day as the research proves that exercise has a significant effect on reducing insulin resistance. It can also help build bones and muscle and keep the heart healthy. Be sure to limit screen time (be that TV or computer) to no more than two hours a day and get children outside and moving whenever possible.
Challenge your child to small fitness goals to help him or her get active and lose weight, or try exercising together so that it becomes a habit you do together. Here are some ways to get active as a family.
Plan healthy meals:
Encourage your children to eat more fruits and vegetable, as well as drink water instead of sugar-sweetened drinks such as sodas and juices. Make healthy snack foods readily available to them. Keep a few bowls of cut up carrots and celery on hand in the fridge for example, and limit processed or other fast-foods whenever possible.
Find more tips on what to pack your children for healthy lunches and snacks.
Enforce sleep time:
Make sure your child is getting enough shut-eye every night as too little sleep can contribute to unhealthy diets and weight gain. Keep electronics out of the bedroom as they can be distracting and disrupt the natural sleep-wake cycle.
What are possible signs of diabetes?
Children with diabetes may not show any signs initially, but over time the following symptoms may become more prevalent:
Hungry or thirsty even after eating or drinking
Dry mouth
Frequent urination
Extreme fatigue
Blurred vision
Heavy breathing
Cuts or sores that won't heal properly
Unexplained weight loss
Numbness in the hands or feet
Darkened skin in the armpits and neck due to insulin resistance
If your child is experiencing any of these symptoms, talk to your healthcare provider about conducting a blood test for your child to get a proper diagnosis.
Can diabetes be reversed in children?
In some cases, even children diagnosed with type 2 diabetes can improve and even reverse their conditions by shedding extra pounds and keeping them off with plenty of exercise and healthy eating habits. The earlier your child makes these lifestyle changes the better his or her chances are of preventing diabetes from progressing.
Keep in mind that if your child were to become inactive again and gain weight, the risk factors for diabetes return. That's why it's so important to make healthy habits a lifestyle rather than a quick fix.