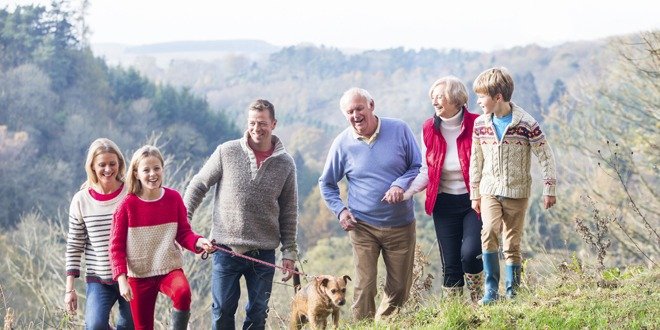 Physical activity is an important part of diabetes management, helping to control blood glucose levels and maintain weight. But whether or not you have diabetes, regular physical activity is important for everyone, including children.
The Canadian Physical Activity Guidelines suggest a weekly minimum of 150 minutes of moderate- to vigorous-intensity activity for adults, in bouts of ten minutes or more. For children, the guidelines increase to 60 minutes of physical activity daily. The best way to ensure you all meet these guidelines is to get out together as a family more often. Here are some ideas for getting active as a family.

Look for new active hobbies that the family can enjoy together, or just get out walking or cycling together more often.  Before you begin, here are a few reminders about physical activity for people with diabetes:
make sure you have comfortable, proper-fitting shoes
check your blood glucose before, during and after exercise so you can see how the activity has impacted your levels
bring along a glucose source (e.g. glucose tabs) in case you have an episode of hypoglycemia (low blood glucose)
Summer Activity Ideas. In the summer, if you have access to a lake, river or reservoir, rent kayaks or canoes and paddle together. Or, depending on the ages of younger family members, consider taking sailing lessons. Once you've qualified, join a sailing club. Or just take advantage of the water by swimming together from a beach where there is a lifeguard.
Volleyball or beach volleyball can be great fun in summer. Or rig up a badminton net in your own backyard for some great friendly competition.
Spring/Fall Activity Ideas. Do you enjoy getting out in the great outdoors? Pack a picnic and get out together for a day, hiking some of Canada's wonderful parks and adventure trails.
Equip everyone in the family with rollerblades or skateboards and head off to a local park. It's great exercise that you can all enjoy.
Or just get out the bikes and cycle together. You can find biking trails in every community. At very least, get out and walk or jog together as this can be done right outside your door. Between homework and extra curricular activities it may be difficult to find the time but start small. Try adding 10-15 minutes of exercise per day, and you will find that the benefits will begin to add up. At the very least, gather your family members and take a short walk after dinner and on the weekend.
Winter Activities. Family physical activity shouldn't come to a halt in the winter months. If you have access to a ski resort, learn to ski or snowboard. Or take up cross-country skiing in some of our great parks or forests.
Grab the sleds and head for the hills! Everyone will have fun, even on the slope in the local park. And pulling the kids there on the sleds will give adults some of your recommended weekly muscle and bone strengthening activity.
Or how about rock climbing? No, you don't have to go to Mt. Kilimanjaro…there are indoor rock climbing centres in most large cities.
No head for heights? Head to your local swimming pool for some fun in the water together. Or consider joining up with another family for some great fun together at a bowling alley or an indoor paintball arena.
Even everyday activities can be more fun when shared together as a family. Whenever it snows, get out there together and get snow shoveling. But check first with the diabetes healthcare team, to make sure your loved one can be part of this.  And remember these tips:
check your blood glucose before, during and after physical activity so you can see how it has impacted your levels
always carry a glucose source (e.g. glucose tabs) with you in case you have an episode of hypoglycemia (low blood glucose)