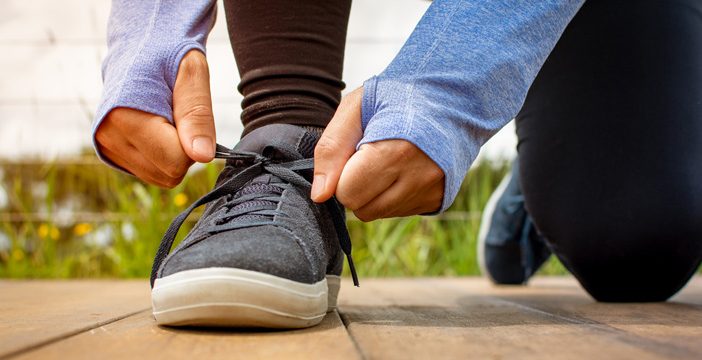 People with diabetes need to protect their feet, especially if they have had the condition for some time. That's because nerve damage (known as "neuropathy") can cause reduced sensation in the feet. When this happens, you may not feel pain or discomfort from improperly fitted shoes. You might develop a wound, such as a blister or sore, which can be very difficult to heal. Proper shoes offer support and protection for your feet.
Is there a shoe especially for people with diabetes?
Most people with diabetes don't need custom-made footwear, unless they have neuropathy and may require specially fitted shoes or inserts. Still, it's important to maintain foot health and not cause injuries to your feet by purchasing shoes that fit properly and are comfortable. Check out these 7 tips for proper shoe fit.
7 tips for properly fitted shoes
Choose shoes that are made of soft, stretchable leather. These are more "breathable" and flexible then a rigid leather shoe.
Look for shoes that have a wide and deep toe box (the toe box is the part of the shoe that covers and protects the toes). This will provide more comfort and your toes won't be pinched or crowded. As well, a wide toe box can accommodate conditions such as hammertoes or bunions.
Choose laced shoes over loafers. They fit better and offer more support for your feet.
Look for a cushioned sole instead of a thin leather sole. This will provide better shock absorption for your feet.
Make sure your shoes have sturdy treads to avoid skidding or falling on slippery surfaces.
The distance between your longest toe and the shoe tip should be half of your thumb's width. This will help prevent blisters or bunions from developing.
Shop for shoes later in the day, as feet can start to swell as the day progresses. As well, try on shoes with socks or stockings to ensure proper fit.
Are there any shoes that should be avoided?
Certain types of shoes can cause pressure on various parts of your feet, which may lead to sores, blisters or other wounds. Open footwear can also allow debris – such as sand, dirt or pebbles – to collect around the foot and cause irritation and discomfort. The following types of footwear should be avoided by people with diabetes:
Sandals and flip flops
Open-toed shoes
High-heeled shoes
Shoes with a narrow, shallow toe box
If you have diabetes, there are some important factors to consider when buying shoes to ensure that you don't injure your feet. Following the tips in this article for proper selection and fit will help you make the best decision for diabetic shoes that are right for you.