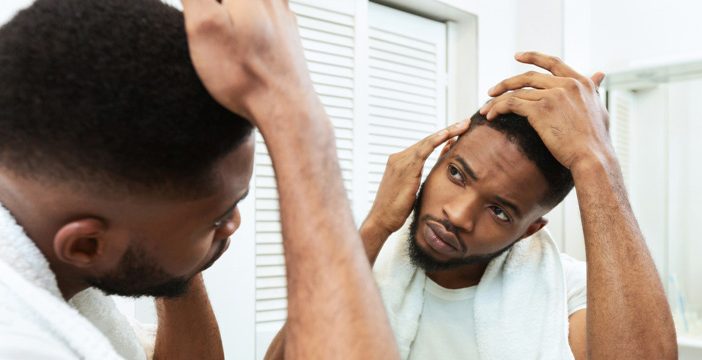 Can diabetes make my hair fall out?
While we all lose a little hair every single day, finding large quantities of hair on your pillow, hairbrush or in the shower, could be a signal that you're losing more than average. Diabetes may be the culprit for your hair loss, especially if your blood sugar levels are off track. Here's a look at the connection between diabetes and hair loss, and what you can do about it.
What's the link between diabetes and hair loss?
Regular hair growth can be impacted by stress, hormone imbalances and high blood sugar levels. Each of these things can disrupt the hair growth cycle, resulting in hair loss or lack of new growth.
When left unmanaged, high blood sugar levels cause sugar to build up in the blood, which can damage or block blood vessels. This means they can no longer deliver much-needed oxygen to your hair follicles for hair growth. Similarly, excess stress and fluctuating hormones can also impact the regeneration of hair follicles.
Poor blood circulation due to excess sugar in the blood, can affect the growth of hair on your head and other parts of the body, such as the arms and legs.
With diabetes, you are also at higher risk for a condition called alopecia areata, where the immune system attacks the hair follicles resulting in patches of hair loss. People with Type 1 diabetes are at higher risk for celiac disease and thyroid issues which can affect hair growth too.
Keep in mind that hair loss can be related to certain medications, nutrient deficiencies, family genes, and some medical and skin conditions. It's also common to lose hair after bariatric surgery. Before seeking treatment for hair loss, talk to your doctor or other healthcare provider to determine the root cause so you can properly target the issue.
Can hair loss be prevented?
Yes, there are several ways to help prevent hair loss when you have diabetes.
Keep your blood sugar levels in check to ensure your blood vessels are operating optimally in delivering oxygen and nutrients to your body.
Get plenty of exercise, which will help drive more oxygen to your cells—including your hair follicles. Read about brief exercise sessions that can help you live a healthier life.
Watch your stress levels. Yoga and meditation are useful in helping reduce stress and improve overall health.
Can hair loss be reversed?
There are certain medications that have been used to prevent and even reverse hair loss. Topical minoxidil, which is rubbed onto the scalp, is the most commonly used medication for hair loss. Finasteride is a pill that can be taken by men. There is also some evidence pointing to low-level laser therapy as effective in promoting hair growth/thickness in men and women. Laser therapy caps and bands currently on the market, however, have proven inconsistent. Those starting laser treatment early on in the hair-loss process have shown the most benefit.
How can hair loss be managed?
Even with significant hair loss, there are things you can do to help manage the situation.
Ask your doctor about medications used to treat hair loss that may help
Consider hair transplants or restoration surgery as another good, albeit costly, option
Try a wig or partial hair piece, called a postiche, to mask thinning or bald patches on the head
Eat a well-balanced diet to prevent mineral deficiencies; iron, zinc, copper and biotin are important for hair growth.
Although there have been no trials evaluating the treatment, some people have had success with massaging essential oils—such as rosemary, thyme, lavender and cedarwood—into the scalp to help stimulate hair growth
While losing your hair is stressful, remember that you have options. In managing your blood sugar levels, exercising regularly and keeping your stress levels in check, you can do your part to prevent hair loss from getting worse. Be sure to speak to your healthcare provider about treatment options best for you.