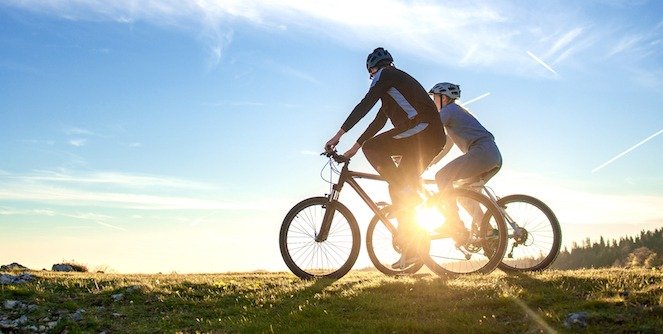 All people with type 2 diabetes benefit greatly from exercise. It helps keep your blood sugar levels in their target ranges, and helps you lose weight (if needed). It can also contribute to the prevention or delay of diabetes complications.
Here are 6 exercises for people with type 2 diabetes that can reap big rewards.
1. Biking
Besides being an enjoyable activity that you can do alone or with others, biking has a number of health benefits, including working the muscles in your legs, increasing your lung capacity and helping you maintain a healthy heart. Most importantly for people with type 2 diabetes, biking (like most aerobic exercise) helps improve your body's response to insulin and lowers blood glucose levels.
2. Resistance training
Resistance training is any exercise that causes your muscles to contract against an external resistance force. Examples of resistance training include lifting free weights, using weight machines or resistance bands, or performing body weight exercises (for example, push-ups and sit-ups). The benefits of resistance training include maintaining or increasing strength and muscle tone, and weight control.
3. Brisk walking or jogging
Brisk walking or jogging are ideal exercises for people with type 2 diabetes, as they help improve your body's sensitivity to insulin. They also elevate your heart rate, which increases blood circulation throughout your body. Like cycling, you can walk or jog with friends or family members, making it a social occasion as well as a healthy one!
4. Yoga
The practice of yoga involves various body postures and movements, breathing techniques and meditation, which are all designed to promote physical comfort and mental composure. Regular yoga sessions can help reduce stress levels, enhance mobility, lower blood pressure and improve overall feelings of well-being. It is these benefits that health experts believe improve diabetes management and protect against complications, such as heart disease.
5. Swimming
Swimming is a great way to improve your overall fitness level, but it also helps improve your heart health: the constant movement of your arms and legs allows the blood and oxygen in your body to pump more efficiently. Unlike higher-intensity sports (such as football or running), swimming does not strain your joints. Swimming also uses both upper and lower body muscles at the same time, which helps control your diabetes. Stronger muscles become more sensitive to insulin and absorb more glucose from the blood, resulting in lower A1C and blood sugar levels.
6. Dancing
Who doesn't love dancing? It's a fun activity that you can do with a partner, in a class, or in the privacy of your own home! It also has health benefits for people with type 2 diabetes. Dance is a weight-bearing and aerobic exercise, which helps build muscle strength and bone density, helps reduce insulin resistance, and improve blood sugar levels. Additionally, dancing can boost mood and energy levels.